St. Mary's three-peats in badminton
Posted on April 13, 2016 by Taber Times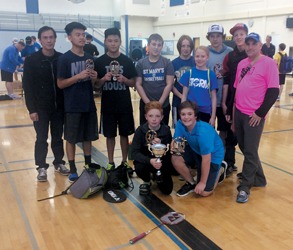 Times photo submitted
By Greg Price
Taber Times
gprice@tabertimes.com
St. Mary's School made it the three-peat at the Mega Tournament Cup in Medicine Hat over the weekend, as the school's badminton players brought home the aggregate championship.
"We took 20 teams with 32 kids total," said Derry Kolody, a badminton coach for St. Mary's School. "They give five points if you win the category, three points for silver and for bronze you got one point."
St. Mary's School took a total of 28 points among its Grades 7-9 participants, in a total field of 630 athletes from 32 different schools. That was good enough for first place, followed by Brooks Junior High and Irvine.
There were 950 games of badminton played in this year's tournament, compared to 850 last year with the increased participation of 80 extra players overall.
"We started playing right before Easter and then Easter sort of interrupted the flow. So we were like most schools where basketball ran pretty late and it was a quick crossover to badminton," said Kolody. "I didn't think we'd win the aggregate this year sending only one Grade 9 team. It really goes to show you the experience where we start them in Grade 6 where we try and get them to hit a few tournaments last year. The Grade 7s and Grade 8s really shone this weekend. Every team we sent qualified for the playoffs."
The following are the list of finishes for St. Mary's School athletes at the Mega Tournament Cup as submitted by the school: Grade 7 – Ty Kiss and Max Nevil boys doubles silver; Racheal Gouw and Trista Duncan silver girls doubles; Preslee Muller and Carter Moser silver mixed; Jack Murphy fourth boys singles.
Grade 8 – Dallas Bodnar and Emmanual Adra gold boys doubles; Seth and Presslee Mulller gold mixed; Tristan Miller gold boys singles.
Grade 9 – Karl Rodrigo and Spencer Phillips silver boys doubles.
St. Mary's School is hosting a badminton tournament this weekend with games starting at 1 p.m. on Friday and starting again on Saturday on 9 a.m. with matches until 3 p.m.