Myers Rebels rugby starts season with victory
Posted on April 13, 2016 by Taber Times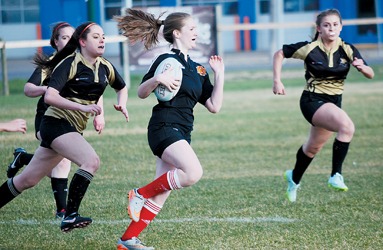 Times photo submitted
By Greg Price
Taber Times
gprice@tabertimes.com
W.R. Myers Rebels girls rugby team got off on the right foot to start its regular season, as both the varsity and junior varsity team came away with victories on the road against Chinook Coyotes on Friday.
The varsity Rebels beat Chinook High 20-7 and the junior varsity squad was victorious 5-0.
"For the senior contest, it was pretty reflective of the game. Myers was overall the better team. The senior game, our speed was a factor there scoring four tries. It was overall good team play," said Andrew Llewelyn-Jones, a co-coach of the W.R. Myers Rebels girls rugby team. "The junior game we only scored the one try and the game was a strange one. I don't think they got into our 22 (metre line) all game. We had a bunch of new girls in there and everybody was getting in their first game and some weren't sure what to do. We defended really well and as soon as they had the ball we shut them down. That was great to see."
The Rebels were able to get in plenty of practice outside thanks to a welcoming Mother Nature, but until the team plays in official game speed, it's hard to gauge how good teams really will be.
"I was happy with what I saw. All the girls at the senior level are experienced and they know what needs to happen. On the junior level, a lot of girls hadn't played before and this was their first game," said Llewelyn-Jones. "We lost quite a few of our junior into the senior squad this year, especially some key players. But, they held their own."
The rest of the month of April will see the Rebels enjoy a long homestand starting off with a match against Winston Churchill on Thursday at Myers field. Game time is 5:30 p.m. for varsity and 6:45 p.m. for junior varsity.
The team then battles Vulcan on April 21 at Myers field with varsity playing at 5:30 p.m. with junior varsity to follow at 6:45 p.m.
The Rebels end April by hosting Raymond on April 26. Varsity plays at 5:30 p.m. at Myers field with junior varsity to follow at 6:45 p.m.