Mills returning to the boxing ring
Posted on April 13, 2016 by Taber Times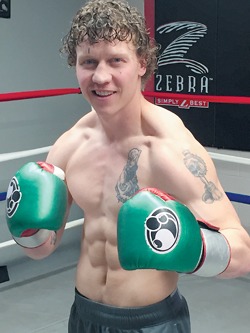 TIMES FILE PHOTO
By Greg Price
Taber Times
gprice@tabertimes.com
"But it ain't how hard you hit; it's about how hard you can get hit, and keep moving forward."
"It doesn't matter how this looks to other people. If this is something you gotta do, then do it. Fighters fight." – Rocky Balboa
For pro boxer and Taberite Joel 'Bam Bam' Mills, hits he took from another opponent never kept him from the sport he's loved competitively. It was the freak injuries over the past seven years.
"It has been a mess for me. I've had two broken hands and had one hand surgery where they put pins in my hand," said Mills. "And then I severed three tendons in my hand. Ever since breaking my hand I've had a ton of elbow problems, due mainly to training people doing the mitts and stuff like that. I finally had surgery to clean all that out where they took chunks from my arm."
Hostile Homecoming that was sanctioned by the Taber Boxing Commission was to feature hometown boy Mills at Cornfest festivities back in 2009, but a freak sparring injury in which he broke the same hand a second time forced Mills to drop out of the event the week before.
Devastated he would not be boxing in front of the community that had supported him during his youth, Mills was also doubting himself that he'd ever professionally box again as the injuries mounted.
But after a very long layoff, the hunger to get back in the ring never truly subsided. Feeling as healthy as he had in years, Mills received a phone call from a promoter in Calgary about a month ago, inquiring if Mills would do a comeback fight in June.
"I was still rehabbing from my elbow and I wasn't quite sure, but I said, 'Yep, I'm ready' and I threw it out there," said Mills. "It seemed like the right time and the right thing. I've done three sparring sessions and the elbow has felt good. It gets sore where I have to ice it up and I have to take care of it a lot more."
The fight card Mills will be participating in on June 25 in Calgary, will commemorate Mills' 29th birthday, where the Taberite will have a rebirth of sorts in the ring professionally.
"I'm not out of my prime yet, but I'm not young anymore. My window is closing, and I've had my business responsibilities at the gym here, and getting married, where I haven't been able to focus on my boxing," said Mills. "It just felt like this was the right time."
Regardless of how the outcome plays out on June 25, for Mills it is more about answering questions within himself that he felt were left unanswered as he suffered his boxing injuries.
"Was the six years I spent out in LA training enough that I can still compete up here in Canada with my limited resources? The limited sparring partners and the limited time training," said Mills. "To be honest with you, to have my training camp here right in Taber, I woke up and found my hunger again. It's this town that's going to drive me to do this again and letting people be a part of it. It's a personal fulfillment thing for me now."
Not being able to box in front of his hometown at Hostile Homecoming, for Mills this is the next best thing he can do in town, holding the training camp and hopefully having many people make the trek to Calgary on June 25 as he steps back into the ring professionally.
"Now being here and having this gym, people can take part a bit. That was a big thing for me," said Mills. "With seven years off, I feel like I'm a lot mentally stronger than I was. When I turned pro when I was 18, I was so young. There's turning pro and then there's turning pro and being thrown into the shark tank which was LA. It was the best of the best, no easy fights. It was sink or swim and I went down there where I was mentally strong enough to survive, but I don't think I was strong enough to thrive yet. Growing up, I'm way stronger now mentally and physically."
For Mills, his biggest question now is if he'll be able to get back to game speed in the ring.
"The big question will be the speed. Do I still have the speed I used to have. If I still have the speed I used to have then these guys will be in trouble," said Mills. "If I don't, we'll see. I thought this died in me (continuing to professionally box), when I broke my hand to fight and couldn't fight for that card in Taber. The community went through all that to set it up and I couldn't do it and it was a heart breaker. It completely took the wind out of my sails. But then this spark I got was very sudden and surreal, and I said I'm going to do it again. I'm going to do it for me, my family, my friends and Taber."
Mills' opponent has not been set in stone just yet, but with the promoter, he has green lighted four possible opponents.
"Because of the amount of promotion, I had to approve four different opponents, just in case someone gets injured during training or someone pulls out. It's contractionally agreed to, so it should only be injury that someone pulls out, but some greasy stuff tends to happen in boxing at times," said Mills. "The opponent will be announced closer to the fight. Professional boxing can become a tricky business. they have to approve, i have to approve. It has to make sense for both of us. In amateurs you just showed up and whoever was there, was there. You could be fighting the number-one guy in the world and there's no backing out. "
"The biggest motivation for me is the people of Taber and why I'm doing this and coming back," said Mills. "It's this town that has stuck by me and supported me all through my boxing career."
PUNCH OUT: This past weekend in Las Vegas saw Manny Pacquiao win an unanimous decision over Timothy Bradley Jr. Pacquiao has gone on record as saying it was his last fight, announcing his retirement after the $20 million payday.
Mills first met Pacquiao when he was 16 years old in 2004. That was when he had his first training camp with him in which the two spent a week together and the two bonded. From 2004 to 2006, Mills made the trek between Taber and Los Angeles in which he participated in further Pacquiao training camps. The bond was even further cemented when Mills turned pro as an 18-year-old boxer and the two had the same conditioning coach in Justin Fortune at the time was the Wild Card Gym.
Knowing who the man is in his fighting spirit and his desire to help his fellow country men in the Philippines, where he was elected to the Philippine House of Representatives, and in a country were poverty abounds, Mills isn't totally convinced his announcement of retirement will be a permanent one at age 37.
"He says it's going to be his retirement fight, but that gets said in boxing more times than not. If someone says this is their retirement fight, usually you can expect to see them back in the ring again at least once," said Mills.
Pacquiao has proved himself a champion in eight different divisions, and earned $160 million for his bout with Floyd Mayweather Jr. last May. Pacquiao's fights have generated more than $1 billion in pay-per-view revenue in the United States. Mayweather retired after beating Andre Berto in September. A similar payday if both fighters were to come back would certainly provide more funds for Pacquiao to help out the people of the Philippines.
"I think Pacquiao has a couple more fights in him. If he lost that fight, maybe it would have been time to call it quits, but he had a great showing, and he looked awesome winning," said Mills. "He still has it and judging by his comments after the fight on the weekend, it looks like some of the hunger is still there."