Suns shine at awards banquet
Posted on March 30, 2016 by Taber Times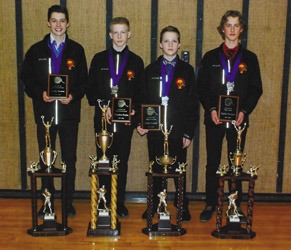 Times photo by Greg Price
By Greg Price
Taber Times
gprice@tabertimes.com
Taber Golden Suns Athletic Association held its awards banquet last week at the Taber Community Centre Auditorium to recognize players who excelled in their respective programs.
For two players in the midget "AA" program, not only did they stand out on their team, but in the whole South Central Alberta Hockey League as well.
Brock Palmer was voted Most Sportsmanlike Player for his Golden Suns team and the South Central Alberta Hockey League as well.
Scoring 30 goals to go with 45 assists in 40 regular-season games had a target put on Palmer's back by the opposition, which he handled with professionalism.
"For him, he is a guy who is playing top minutes and he's matched against every other team's top player and he was second in the league in scoring. he was being watched all the time and he was taking a beating every shift and not retaliating," said Jon Ohler, head coach of the Taber midget "AA" Golden Suns, highlighting Palmer's paltry 18 minutes in penalties during the regular season. "In my opinion too, he was the hardest working kid in the entire league. He took a beating and he got right back up and kept working. That's a special trait."
A unique skill Ohler noted of Palmer was his ability to 'pick sticks' on the backcheck from behind, disarming the opposition of the puck as they tried to carry the puck up ice.
"He quite good at that. He was quite a special player to watch. he was the talk of the (South Division) playoff tournament in Wheatland. He's a dynamic, exciting player to watch," said Ohler. "He's Johnny Gaudreau-ish."
Kaden Fujita's Exemplary Player Award had each team nominate a forward. Attributes for the award include proficiency in hockey performance, sportsmanship, contribution towards his/her team, a high quality of life skills and scholastic performance.
Mixed in with a letter on the chest of his jersey, double-digit goals and assists as the team's fifth-leading scorer, and solid two-way play on the power play and penalty kill, Fujita's academic transcripts showed no mark lower than an 86 per cent in any of his 30-1 classes which included a 97 per cent in Math 31 (Calculus). Fujita plans to attend the University of Lethbridge next fall where h is enrolled in the Bio/Science program where his long-term goal is to study medicine.
"He also won the Players' Player Award for the Suns, and that's his peers voting for that. That goes to show you his character which the league agreed with as well," said Ohler. "He's good both on the ice and off it. He's an all-around player."