Rebels rugby prepares for season
Posted on March 30, 2016 by Taber Times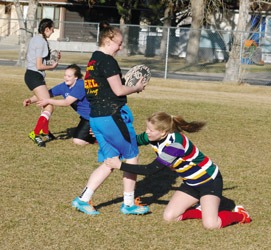 Times photo by Greg Price
By Greg Price
Taber Times
gprice@tabertimes.com
Girls rugby continues to grow and you only have to look at the W.R. Myers Rebels program to verify that claim.
"We are in very good shape. We have a pretty good number in our senior varsity squad that is very experienced, being led by Keegan Brantner who is representing Canada at an U18 tour of England over Easter," said Andrew Llewelyn-Jones, a coach in the W.R. Myers Rebels girls rugby program. "We have a lot of strength, speed and experience in the senior squad. We do have a strong program now, in the (junior varsity), we have 26 girls and that's a significant number to have. Good athletic players that are coming out to try this game."
Llewelyn-Jones noted the Myers teams stresses fundamentals over and over again where the latter skill flows from that.
"It's about doing the basics and doing them well. Do the easy things really well, and that gives you the confidence to try a few other tricks of the trade as we call them," said Llewelyn-Jones. "We emphasize getting the basics right, which is handling, rucking, mauling, and scrimmaging — all those things become very important and we've developed that over the years. The senior team is quite experienced in that and the junior team is grasping those principles quite quickly this year. They are doing things in just a few practices that at first was not expected of them to do so quickly, they are really tuning into what the game is all about. The program is strong and we are committed as coaches."
The Rebels will look to compete with your other regular powerhouse programs in southern Alberta with F.P. Walshe, Raymond, Winston Churchill and LCI.
"Those programs are always strong, and we expect a good fight on every game we play. But, we are excited for that challenge. The fact we are seeing a Grade 12 girl who is now representing Canada at the U18 level is phenomenal," said Llewelyn-Jones. "That demonstrates how strong our program has become and we hope to see more down the road. That is our goal for girls who really love the game and want to go on to other things."
Numbers are growing through many girls rugby programs throughout southern Alberta which Llewelyn-Jones attributes to a gamesmanship found in few other sports.
"It's the enthusiasm of the girls who play. As coaches we push really hard to promote the sport. We try and make it a good experience for the girls, that is my goal and the goal of other coaches," said Llewelyn-Jones. "We get very few girls who drop out. It's a good discipline and there's a camaraderie in rugby that, I've watched many other sports, the camaraderie in rugby is second-to-none that you see when you get the squads together."
W.R. Myers girls rugby team plays its first game of the season on April 8 in Lethbridge against Chinook at the Lethbridge Rugby Club.