Smooth sailing on way to provincial title
Posted on March 23, 2016 by Taber Times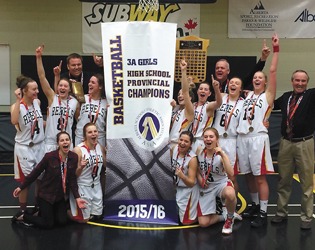 Times photo submitted
By Greg Price
Taber Times
gprice@tabertimes.com
Second verse…same as the first.
W.R. Myers Rebels varsity girls basketball team played a familiar foe in the 3A provincial final in Olds in the McCoy Colts, vanquishing them once again in a 67-47 win to cap off a memorable season.
"Brandon, Marty and I told the girls not to take this game lightly, even though we had beat McCoy the last couple of times we had played them. This would be a different game and they should be prepared for a battle," said Kenney Wood, head coach of the W.R. Myers Rebels varsity girls basketball team.
The first quarterwas a battle indeed as McCoy came out extremely aggressive according to Wood, as the Rebels only led by two points after the first quarter.
"With their aggressive play, we were able to take advantage of that in the second quarter and got some easy baskets, and had built up a 13-point lead by the half. We clamped down on defence and only allowed them to score eight points," said Wood of the Rebels who would eventually build the lead to 21 points after the third quarter before cruising to the championship win.
"The girls, in all three games, were the smartest team on the floor and that really helped us stay composed and lead us to victory. All season long we have tried to play smart basketball and this weekend we definitely showed our opponents why we were ranked Number One."
Hayley Lepard had 22 points to go with 13 rebounds. Paige Wood had a double-double as well with 10 points and 10 rebounds. Natalie Hoyt had 14 points. Millay Johnson had 11 points to go with eight rebounds.
Rebels kicked off its provincial championship run shaking off the rust and beating Strathcona Christian Eagles 61-46.
Johnson had 21 points and Hoyt added 15.
"We left for Olds around 9 a.m. on Wednesday and didn't play until 5 p.m. on Thursday. It was a long couple of days of sitting around and waiting. We came out a bit flat offensively, but still played a strong defensive game," said Wood. "It was good to get back on the court and get the cobwebs out. The girls were nervous, and it showed, but they fought hard and were able to get that win under their belt."
W.R. Myers Rebels made the provincial championship game by knocking out Chestermere Lakers 75-46.
Katessa Gross hit for five three pointers in the second quarter on the way to a game-high 25 points. Hoyt had 13 points and Lepard hauled in 12 rebounds. Paige Wood had nine points to go with 10 rebounds. Tiffani Olsen had 10 points.
"We have five players who laced up their shoes for the last time as a Rebel in that game. Hayley Lepard, Paige Wood, Tiffani Olsen, Katessa Gross and Keegan Brantner," said Wood.
"It's always tough to play your last high school game, but what a way to go out. We couldn't have had it any better. We would like to thank all our fans that made the trip to Olds to watch us play. We definitely had the biggest following, and the loudest fans in the stands. Also a big shout out to the boys team for their tremendous support and their body paint. It was awesome."