Rebels earn zone banner easily
Posted on March 16, 2016 by Taber Times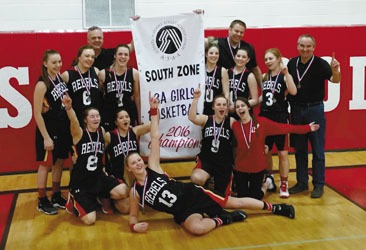 Times photo submitted
By Greg Price
Taber Times
gprice@tabertimes.com
W.R. Myers Rebels varsity girls basketball team used its tenacious defence to put its brand on the McCoy Colts to take home the 3A South zone banner in Medicine Hat over the weekend.
The team cruised to a dominating 80-37 victory.
"We were really prepared for a battle, we had played them in the final of the Rebel Classic so we knew that we would have to play well to win again. I knew with this game being in their home gym that would give them a big edge. Their gym is very tight which is always tough to play in," said Kenney Wood, head coach of the W.R. Myers Rebels varsity girls basketball team. "The girls really came out strong and took control right away. We once again were able to play tremendous defence and held them to 17 points in the first half. In championship games, once you've gotten a lead, you never want to give your opponent a breath of life and need to continue to extend leads and keep up the pressure. We did a great job of this and once we built our lead, we never looked back and just kept going."
Natalie Hoyt led the Rebels with 24 points. Katessa Gross poured in 17 points, thanks to being five-for-seven from beyond the arc. Millay Johnson had 16 points and Paige Wood recorded a double-double of 10 points and 10 rebounds. Hayley Lepard was a monster on the glass, hauling in 19 rebounds, and Genna Wright had 10 rebounds.
Earlier the Rebels dismantled Eagle Butte 61-27.
"Going in ranked first is always a double-edged sword. We are expected to win and the pressure is all on us, the other teams have nothing to lose because they are supposed to lose. Marty, Brandon and I had a great conversation with the team about this and told them that we need to show each team that we play why we are ranked first in the province," said Wood.
"We told them that our last number of league games had prepared us for this zone tourney and that if we kept up our intensity we would shock our opponents. Eagle Butte had played on Thursday and scored over 80 points in their win. We were not going to allow that and came out in the first and second quarters and played some tremendous defence and held them to 12 points at the half. I don't think they were prepared for that type of intensity. With that pressure we were able to get out and run and really pick the up pace of the game. We got a lot of transition baskets. Everyone contributed in this game, everyone scored, everyone got a rebound, everyone got an assist. It was truly a team effort."
Johnson had 17 points to go with 12 rebounds. Hoyt hit for 14 points and Lepard had 10 rebounds.
"Our theme this weekend was keep our foot on the pedal and push the pedal to the floor. The girls took this to heart and played like the champions they are. We have now accomplished Goal Number One, but will get back in the gym on Monday and Tuesday," said Wood. "We will be leaving for provincials in Olds today and we will once again be going in as the number-one seed and plan on accomplishing Goal Number Two —bringing home the provincial title."