Rebels boys basketball has banner moment at zones
Posted on March 16, 2016 by Taber Times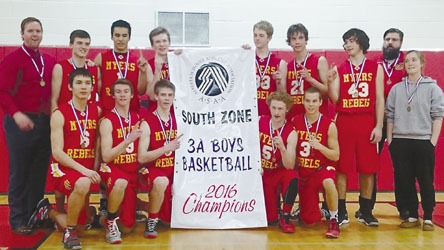 Times photo submitted
By Greg Price
Taber Times
gprice@tabertimes.com
W.R. Myers Rebels varsity boys basketball team saved its best basketball of the season so far this past Saturday in bringing home the 3A South zone banner with an 82-73 win over McCoy.
"The final was a battle the entire game with lots of lead changes. We started strong and were leading early, but allowed McCoy to go on a 14-1 run in the second quarter and found ourselves trailing at half-time. We were able to pull away in the fourth quarter, but never built more than about a six or seven point lead, so we were never too comfortable out there," said Greg Bowes, head coach of the W.R. Myers Rebels varsity boys basketball team. "I thought this was our best team effort of the season. We didn't shoot particularly well and had many turnovers, but I thought we out-worked them on the defensive end and were able to get a few steals late in the game and got out in transition. McCoy is a big, physical team, and they had really hurt us on the boards in previous meetings with them, but we battled hard on the glass and wore them down."
The Rebels offensive attacked was balanced and varied with five Rebels finishing with 11 or more points. Michael Johnson led the team with 18 points by going hard to the hoop. Blake Bullock had 17 points along with having his way on the boards. Marcus Andrus finished with 15 points.
"He came off the bench and played some big minutes, grabbing a few key rebounds and knocking down some timely shots," said Bowes.
Tate Platt was on fire from beyond the arc, going 4-for-9 from three-point land on the way to a 14-point game. Josh Mouland ended up in foul trouble for the game, having to sit out for half of the contest, but still registered 11 points.
"The gym was packed and the crowd was going back and forth all game. At times, it felt like we had the home court which was huge," said Bowes. "A shout out to the varsity girls team who were cheering relentlessly all game. That really helped with our team's energy and definitely contributed to our win. We are hoping to repay them the favour this week on their quest for the provincial banner."
In the South zone semifinal, the Rebels were able to upend Eagle Butte 75-70 to make the championship game.
Bullock led the Rebels with 22 points. Mouland had 18 points and Bradley Marsden chipped in 12 points.
The team is off to 3A provincials in Olds as the number-eight seed.
"Our team is really excited to be going to provincials for the fourth year in a row. The top couple seeds are pretty strong, but after number two or three, I think the field is wide open," said Bowes. "Although there is no pressure on us to medal this weekend, I think our team has been playing our best basketball of the season."