Rematch makes Myers curling golden
Posted on March 9, 2016 by Taber Times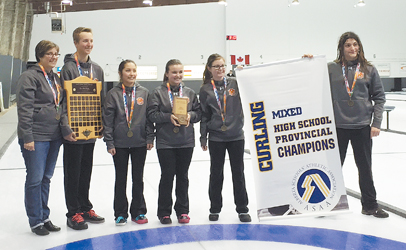 Times photo submitted
By Greg Price
Taber Times
gprice@tabertimes.com
Curling is as much a mental game as it is physical, and the W.R. Myers Rebels mixed curling team showed its mental toughness by gutting out a provincial championship victory in Ponoka on Saturday.
With eight different zones participating, the Rebels played five games and had to dig themselves out of a big hole right off the bat with a 10-0 blanking at the hands of Westlock in a match that was played on a near unplayable sheet of ice.
"They had told us in the coaches and skip meeting that there were issues about Sheet Six. Their compressor had broken and you could see an actual line going down one side of the sheet," said Andrea Makarchuk, head coach of the W.R. Myers Rebels curling team. "You couldn't predict where the rocks were going to go. You couldn't predict anything. You couldn't get the rocks to some spots. It was the ice and it got the kids down. It was really heavy on one side and keen on the other, we lost draw weight. It was just a bad, bad game."
The drama continued with the Rebels next match against High Prairie in which W.R. Myers won in an extra end.
"Keeley (Miller) had to make an awesome draw and she did," said Makarchuk.
The Rebels faltered once again at first, this time against host Ponoka in its third match, trailing by five after the first end and six after two ends after Ponoka stole one without the hammer.
"I told the kids to keep plugging away. Let them have one when you don't have the hammer, and when you do tack two or three," said Makarchuk. "We got it down to the seventh end where we managed to take two and down one coming home," said Makarchuk.
That is when the Ponoka skip went off script, much to the delight of the opposition, committing a match-ending error.
"We had everything set up for the steal, when their skip decided to be hugely aggressive and he missed his shot which knocked us in for two and we won the game," said Makarchuk. "I think because he had got a little full of himself with that five in the first end, and it led to his decision to do that shot. I personally would have just drawn and gone to an extra end, but all the coaches were out of time-outs by that end, so decisions were left in the kids' hands."
Finishing with a 2-1 record, it had W.R. Myers finish second in its pool which meant Crossfield in the crossover and once again, plenty of drama was involved.
"We were tied coming home without the hammer and we managed to steal one that pushed us to the gold-medal championship," said Makarchuk.
It made for a rematch with Westlock in the championship, where it was a much different result on a better sheet of ice.
"We had control of the whole game. It really helped when we took a five in the fourth end and then we stole one in the sixth. Taking another two in the seventh, we just ran them out of rocks after that," said Makarchuk.
Only getting silver at zones in Lethbridge to qualify for provincials, Makarchuk was keeping expectations in check for provincials, simply hoping her team would stay loose and have fun soaking in the provincials experience.
But proving most of provincials being anything but loose with some tight decisions, Makarchuk applauded the Myers mixed team for peaking at the right time.
"We have five kids on the team. Thane (Buckingham) did such a good job putting up the guards in all the game and he totally had his draw weight. We rotated between Karlee (Martin) and Jillian (Pickerell) and they too had their draw weights and they made so many beautiful hit and rolls. Andrew (Makarchuk) had his weight down throwing third rocks and made some doubles throughout the games. Keeley was on fire, tapping any rock anywhere she wanted it to go," said Makarchuk.
"I am just so proud of the kids. They worked so hard. They never gave up, we were behind every single game except for our last game. They had to really dig in and not give up. They kept taking one or two here, stealing one or two there. I just told them to take it one rock at a time."