Rebels secure top provincial ranking with strong regular-season finish
Posted on March 9, 2016 by Taber Times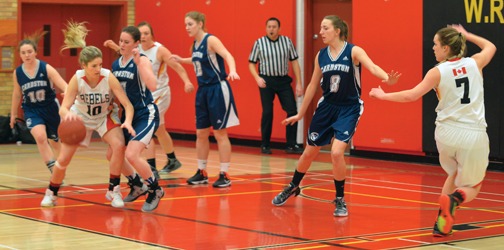 Times photo by Nikki Jamieson
By Greg Price
Taber Times
gprice@tabertimes.com
W.R. Myers Rebels varsity girls basketball team go into 3A zones in Medicine Hat this week with some forward momentum after finishing up Southern Alberta Girls Basketball League with a hard-fought victory at home.
Seniors played their last-home game of their high school basketball careers on Saturday afternoon, and sent fans home happy with a 63-57 victory over Cardston Cougars.
Five Rebels broke double-digit scoring for the well-rounded attack, which included Millay Johnson (14), Katessa Gross (12), Paige Wood (11), Hayley Lepard (11) and Natalie Hoyt (11).
"With this game being our last home game, there were a few emotions to deal with. Cardston had improved a lot since we played them last time, and had won some big games over the past few weeks," said Kenney Wood, head coach of the W.R. Myers Rebels varsity girls basketball team.
"We really needed to win this game to go into zones on a high note and we were able to hold them off and come away with the win."
The busy week of hardcourt action continued earlier with the Rebels, who beat Catholic Central Cougars on the road, 67-55 on Friday.
Lepard poured in 29 points to go with 14 rebounds with Johnson also getting a double-double with 12 points and 16 rebounds.
Paige Wood had 15 points to go with nine rebounds.
"This was a battle with it being Catholic Central's last game in their gym this season. They really did not want to lose. We had a great second quarter offensively and held them defensively, and that was the difference in the game."
The Rebels started its week of Southern Alberta High School Girls Basketball League play with a tough 74-72 loss to Medicine Hat Kwahommies last Wednesday on the road.
"This was a great game with many lead changes. We were up by two with 18 seconds left. They had the ball, and on a broken play hit a three pointer," said Wood.
Johnson had a monster game offensively, hitting for 33 points. Lepard had 13 points to go with 10 rebounds. Hoyt added 15 points.
"We have had another extremely success season and we are heading into zones playing some very great basketball," said Wood of his Rebels who prepare to play its first 3A South Zone this Friday at 2 p.m. at McCoy High School.
"We have been ranked first provincially through all three (ASAA) ranking periods and are going into zones as the number-one seed."