Barnwell Lady Trojans win sixth-straight 3J banner
Posted on March 9, 2016 by Taber Times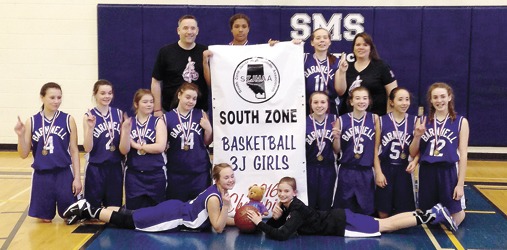 Times photo submitted
By Greg Price
Taber Times
gprice@tabertimes.com
The Barnwell Lady Trojans basketball team made it six years in a row with a banner this weekend at the 3J zone championships held at St. Mary's, and they did it in dominating fashion.
The rare "repeat three-peat" extends the Trojan's zone championship win streak that started back in 2010.
Guided then by coach Lorell Zanoli, the 2010 squad went into zones ranked fifth and fought their way as underdogs to their first-ever zone title.
Fast forward to 2016, and under the tutelage of Chad Runquist, the Trojans have long shed the underdog label as the top dog.
Coming into zones, Barnwell used its number-one seed to advance via a bye to the semi-finals.
While F.P. Walsh played extremely physical, their skill level couldn't keep up with the Trojans as evident by the 84-31 victory for Barnwell. Barnwell was paced by Player of the Game Austen Robbins' 21 points and five rebounds.
"F.P. Walsh pressed us the entire game and was very aggressive," said Runquist. "But Vicky Shimbashi, Alex Haller and Emily Hoyt's poise and ball- handling abilities knifed through the tough defence."
The Trojans were able to control the rebounds with the trio of Kitawna Sparks, Abby Wood and Haley Platt, pulling down 17, eight and eight boards respectively.
Immanuel Christian from Lethbridge awaited Barnwell in the final, and Runquist knew they would have to play well.
"Immanuel Christian had some really big girls, and our girls and I knew they would be no pushovers," said Runquist. Again, Robbins came up big with 22 points, but it was her defence that shut down the Immanuel Christian attack.
Alex Haller was named Player of the Game behind her 10 points and six assists, but it was tournament MVP Kitawna Sparks who set the tone.
Immanuel Christian found out what many of Barnwell's opponents found out throughout the season.
"When Kitawna gets going, she is impossible to stop," said Runquist.
Sparks netted 29 points and nabbed 17 rebounds as the Trojans cruised to a 71-40 victory.
"I am extremely proud of the team and the overall team effort," said Runquist. "Losing Austen, Kitawna, Alex, Julia Alexander and Andrea Harvey will be tough, but our Grade 8s are excellent shooters. Emily, Vicky, Hayley and Halle Johnson make a great core and when you give 7th graders Abby Wood and Beth Nelson another year to mature, I am hoping Barnwell will be able to make a run for a seventh banner."
Barnwell will have to be creative when honing its basketball skills. The modernization of Barnwell School started last week and the Trojans will be without a home gym until at least January 2017.