Myers curling making its way to provincials
Posted on March 2, 2016 by Taber Times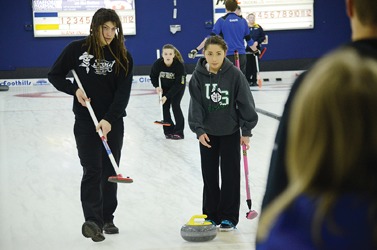 Times photo submitted by Garrett Simmons
By Greg Price
Taber Times
gprice@tabertimes.com
The W.R. Myers Rebels mixed curling team is off to provincials this Thursday to Saturday (March 3-5) in Ponoka thanks to the team effort they displayed at divisionals and zones.
Combining efforts with St. Mary's School to do a joint high school curling program, skills have been worked on up to Christmas time, in which players were eventually broken up into teams.
Divisionals were at the end of January, in which Myers competed in a five-team field, in which the mixed team lost one match in round-robin play to Vauxhall, only to avenge that loss in the final against the same team.
"When we played them in round-robin, it was close and I think were were tired. It was our third game that day," said Andrea Makarchuk, a coach with the W.R. Myers curling team. "In the final, the team just came together and played really well."
The Rebels next stepping stone to provincials was zones in Lethbridge in mid-February. W.R. Myers ended up winning its pool and its semifinal, but lost in the zone final to take silver, but still qualify for provincials.
"The match was pretty close," said Makarchuk.
The W.R. Myers Rebels mixed curling team is comprised of Keeley Miller, Andrew Makarchuk, Jilian Pickerell, Karlee Martin and Thane Buckingham.
"All the curlers except for one compete in some league here in Taber as mens or ladies," said Makarchuk. "They are a very teachable group. The weaknesses we had at divisionals were strategy problems. So we seemed to fix that, like how to steal an end, or how to keep a larger lead which is what we needed to work on. It's fantastic when you see what you are talking about in practice being put into play. It will be all about having fun at provincials."
There will be teams representing eight different zones at provincials.