Another tournament title under Rebels' belt
Posted on February 24, 2016 by Taber Times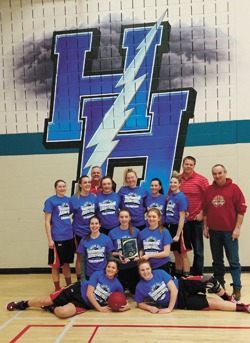 Times photo submitted
By Greg Price
Taber Times
gprice@tabertimes.com
W.R. Myers Rebels varsity girls basketball team returned to their winning ways in a big way this past week with a string of victories including a tournament title in Hunting Hills over the weekend.
The Rebels faced the hosts in the championship final and emerged with an 87-56 win.
"Playing the home team in the final is always going to be a challenge. They definitely were ready for this game and came out aggressive. It's always tough to beat the home team," said Kenney Wood, head coach of the W.R. Myers Rebels varsity girls basketball team. "With Hunting Hills' aggressive play, they got into foul trouble which put us at the foul line early in each quarter and we were able to pull ahead. It was a great confidence builder for the team, and a fun win. It seemed like even with us being the visiting team, most of the crowd was cheering for us."
The Rebels reached the championship final by defeating Lindsay Thurber 58-41.
Millay Johnson scored 19 points and Paige Wood added 15. Natalie Hoyt chipped in 12 points and Genna Wright hauled in 13 rebounds.
"We had played this team at the Bev Facey tournament, so we knew what to expect. We once again played very solid defence and we continued to slowly pull away," said Wood.
W.R. Myers Rebels varsity girls basketball team began its tournament run by dismantling Charles Spencer 72-20.
Johnson scored 12 points and Hayley Lepard had 11 points. Wood and Jenna Nelson both had nine points apiece.
"With this being the first game, we really wanted to start out strong. Marty, Brandon and I spoke to the team about getting in game mode and really getting in a great warm up. We came out very strong and got the game in control by the end of the first quarter. Everyone was able to score points in this game," said Wood.
Earlier in Southern Alberta High School Girls Basketball League play, the Rebels were able to defeat Raymond Comets 59-49 last Wednesday, as the squad rallied from a 13-point half-time deficit.
Wood had 17 points to go with nine rebounds and Johnson had 13 points to pair with six rebounds. Hoyt had 13 points and Lepard recorded the double-double of 11 points and 10 rebounds.
"It was the tale of two halves of basketball. Raymond was ready for this game and came out very aggressive. Our offence was really struggling and it was our defence that kept us in the game. Even though we only scored 15 points in the first half, Marty, brandon and I truly believed that we could turn the game around and get the win," said Wood. "We had a great half-time talk with the team, and told them to believe in their teammates and trust the offence. The girls showed tremendous character and never gave up. The plan was to get within striking distance by the end of the third quarter and then win the fourth. The plan worked and the girls could see the game turning around, we held Raymond to eight points in the last quarter. Raymond is always a difficult place to play, their fans are loud and their teams always play with a lot of passion and they truly hate to lose. So to get a win on their home court is always a great accomplishment. Tiffani Olsen gave us some tremendous minutes, she doesn't score too much or get too many rebounds, but she always gives us 100 per cent effort. She's a tenacious defender and never gives in."
The Rebels play LCI Clippers on the road on Saturday and then battle Medicine Hat Kwahommies on March 2. The Rebels then travel to Catholic Central on March 4 before celebrating program seniors on March 5 at home against Cardston Cougars. Game time is 1 p.m. for junior varsity and 3 p.m. for varsity.