Oil Kings triumph in Montana
Posted on February 17, 2016 by Taber Times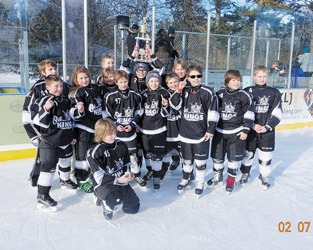 Times photo submitted
By Greg Price
Taber Times
gprice@tabertimes.com
Taber atom 'A' Oil Kings went undefeated at a unique tournament in Kalispell.
There were teams from Lethbridge, Fort Macleod, Whitefish, Kalispell and Kent Valley (Seattle area) present. 
Kalispell is one of the few outdoor rinks found in Montana and has affectionately become known as the "Snow Globe Rink."
 
The following was an excerpt taken from tournament organizers about the uniqueness of the tournament: "Playing hockey outdoors has a special feel, fresh air, stars, sun, snow — it is exhilarating! It can also be a challenge, so please be advised that weather conditions do affect the rink and ice. Glass surroundings may become frosty (particularly in the morning), snow on the ice slows the puck, ice texture changes with weather conditions, the sun can be bright reflecting off the ice — the elements become a part of the game, equal for all participants."
Evan Koizumi scored a hat trick for the Oil Kings and Devan Loewen potted two goals. Hunter Damburger and Callie McCulloch also had goals throughout the tournament weekend. MVP / Heart and Hustle awards were given to:
Kade Duell, Kahil Wright, Kyler Marchuk, Connor Chapman, Evan Koizumi, Callie McCulloch, and Carter Jensen. Kahil Wright played in net for all four games played, which included a shutout in the final game.