Stifling defence powers Rebels
Posted on February 10, 2016 by Taber Times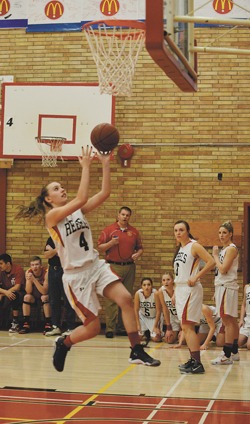 TIMES FILE PHOTO
By Greg Price
Taber Times
gprice@tabertimes.com
The W.R. Myers Rebels varsity girls basketball team continued to prove it will be a team to be reckoned with in 3A basketball, as the squad took home the title of its Rebel Classic Basketball Tournament on Saturday.
The Rebels faced a strong 3A foe in the final, managing to build up a 14-point half-time lead before cruising to a 60-37 victory over the McCoy Colts.
"I was hoping that we would see McCoy in the final. They are in our zone and are currently ranked fifth in 3A in the province. Although they are in our zone, we had not played them in about five years, so I was looking forward to the match," said Kenny Wood, head coach of the W.R. Myers Rebels varsity girls basketball team. "McCoy is a very good team and I knew they were not going to give in. The third quarter was a battle and we were up 13 going into the fourth quarter. We continued to play hard in the fourth and got a few easy points off of turnovers. We will probably see them again in the zone final."
Millay Johnson scored 19 points to go with nine rebounds to cap a Rebel Classic performance that earned her Rebel Classic Basketball Tournament MVP honours. Hayley Lepard had 20 points in the final and earned herself a tournament all-star selection.
Natalie Hoyt chipped in 10 points and Paige Wood hauled in 14 rebounds.
The Rebels started off its tournament run with a defensively-dominating 80-32 win over Notre Dame on Friday evening.
"The girls were very excited to get back on the court and were even more excited to get the Rebel Classic under way. We came out in the first quarter and scored 27 points, and we played some very intense defence," said Wood.
Hoyt poured in 16 points and Johnson chipped in 13. Wood added 11 points.
"Everyone hit the score sheet, and we even got a few minutes from Katessa Gross. She is slowly getting back into things after her knee surgery and it was sure great to be able to get her in the game. She shot six three-pointers and made three of them which is outstanding. The whole team was super excited to have her back in the line up."
The Rebels made its tournament final by herding up the Brooks Lady Buffalos 61-21 on Saturday afternoon.
Johnson and Lepard both had 13 points and Genna Wright hauled in 10 rebounds.
"Once again our defence was stellar. It really set the tone for this game. We held Brooks to 10 points in the first half. Everyone played well and contributed to the win," said Wood. "All in all it was a great home tourney, the crowds were awesome and cheered us on to victory. All the out-of-town teams love coming to the Rebel Classic, the basketball atmosphere is great."
Earlier, the Rebels dropped its first Southern Alberta High School Girls Basketball League game of the season in a tight 66-64 loss at home last Wednesday.
Hayley Lepard had 27 points and Hoyt hit for 14 points. Millay Johnson chipped in 11 points and Wood had eight.
The Rebels host LCI Clippers today in Southern Alberta High School Girls Basketball League play, with junior varsity at 6 p.m. and varsity at 8 p.m.
The Rebels also host Winston Churchill Griffins on Friday with junior varsity at 6 p.m. with varsity to follow at 8 p.m.