Teams enter provincial playdowns
Posted on February 3, 2016 by Taber Times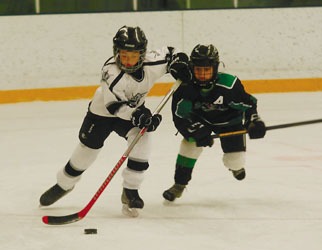 Times photo by Greg Price
By Greg Price
Taber Times
gprice@tabertimes.com
Taber atom 'A' Oil Kings hockey team have had a busy week of minor hockey play.
In league play, the team proved road warriors with a 10-4 win in Airdrie and a 6-6 tie in Beiseker.
Kade Duell potted four goals and two assists in the win against Airdrie. Teammate Heath Hansen had the hat trick to go with two assists. Walker Skiba, Connor Eldridge and Matteo Blasseti each had singles. Skiba and Blasseti also drew assists along with Carter Jensen, Matthew Gensorek, Kyler Marchuk and Callie McCulloch.
Hansen and Duell both recorded two goals apiece in the tie against Bieseker. Gensorek had a goal and an assist and Skiba rounded out the goal scoring with a single. Eldridge and Blasseti both had two assists with Devan Loewen recording a single helper.
The team also competed in provincial playdowns last Thursday in a two-game series with goal differential.
The squad dropped a tight 10-9 competitive game against Coaldale at the Taber Arena.
Duell had the hat trick and two assists. Hansen netted two goals and McCulloch, Gensorek, Eldridge and Jensen scored singles. Skiba had two assists with Blasseti, Marchuk, and Connor Chapman with single assists.
NOVICE: Taber novice 2 Oil Kings edged Irvine Bulldogs 7-6 at the Taber Arena on Sunday.
Langdyn Cummins had the hat trick and Tage Jensen scored two goals. Lincoln Weiss and Samuel Tolsma had singles.
Taber novice 1 Oil Kings went 2-0 on the weekend, with a home 10-7 win against Irvine and a 14-10 road win against Picture Butte.
Chase Stronge had seven goals and four assists combined in the two games.
Kayden Kress had six goals and two assists. Nathan Planger recorded five goals. Maxwell Anderson and Blake Rabusic both had a goal and an assist. Ayden Umbach had two goals and Roman Capner had a goal and an assist.
INITIATION: Taber initiation 1 Oil Kings skated to a 14-6 win over Picture Butte on the road on Saturday.
Raiden Koizumi, Cruz Duell, and Heston Hansen each had hat tricks.
Nathan Gensorek scored two goals. Mikaelah Clingman, Jenner Workman, and Nate Kramer each had singles. Jenner Workman, Nathan Gensorek, and Julian Woordman each played one period in net.
Taber initiation 2 Oil Kings earned a 16-3 win over Magrath on Saturday at the Taber Arena.
Nixen Miller, Madix Miller, and James Ruggles had hat tricks. Lincoln Wiebe, Dane Degraw, and Emmett Ruggles each had two goals apiece. Ethan Volk scored a single.