Novice Oil Kings upend Blades on home ice
Posted on January 27, 2016 by Taber Times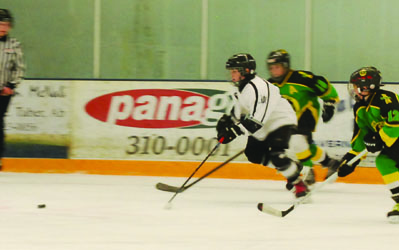 Times photo by Nikki Jamieson
By Greg Price
Taber Times
gprice@tabertimes.com
Taber Novice 2 Oil Kings skated to a 12-9 win over Picture Butte Blades at the Taber Arena on Saturday in minor hockey play.
Lincoln Weiss tallied four goals and Samuel Tolsma had the hat trick. Langdyn Cummins and Konnor Wiebe both had two goals apiece. Branson DeVlieger scored a single. Tolsma also drew two assists.
INITIATION: Taber Initiation 2 Oil Kings earned a 17-7 win over Coaldale at the Taber Arena small ice on Sunday.
Nixen Miller, and Lincoln Wiebe had hat tricks. Dane Degraw, James Ruggles, Ethan Volk and Madix Miller all had two goals apiece. Emmett Ruggles, Burke Hyland and Brodyn Sutka had singles.
Taber Initiation 1 Oil Kings were also victorious in a 19-5 win over Coaldale at home.
Raiden Koizumi, Cruz Duell, Nathan Gensorek, Heston Hansen, Jenner Workman each scored hat tricks. Mikaelah Clingman, Eastynn Pidborochynski, Jackson Jones, Julian Woordman each notched singles.
Jenner Workman, Jackson Jones, and Eastynn Pidborochynski each served one period in net.
ATOM: Taber Atom 'A' Oil Kings doubled up Lethbridge 12-6 at the Taber Arena.
Kade Duell had four goals and four assists. Matteo Blassetti notched two goals. Heath Hansen and Kyler Marchuk both recorded one goal and two assists. Matthew Gensorek, Connor Eldridge and Connor Chapman each had one goal and one assist. Walker Skiba had a goal and Callie McCulloch recorded an assist.
Taber Atom 'B' Oil Kings split its pair of hockey games over the weekend.
The team fell 12-3 to Raymond, on the road on Saturday.
Jayden Holland tallied twice for the Oil Kings who got a single from Hayden Span. Ainsley Duell drew an assist.
The team returned home on Sunday to beat Kainai 8-6.
Rex Bell and Holland each had two goals apiece. Span, Alex Makarchuk, Jaxson Coutts, and Sam Tolsma each had singles. Tolsma also drew three assists. Holland and Span had two helpers apiece with Bell, Coutts, Makarchuk and Logan McCombe getting single assists.