Basketball tradition entering new era
Posted on January 27, 2016 by Taber Times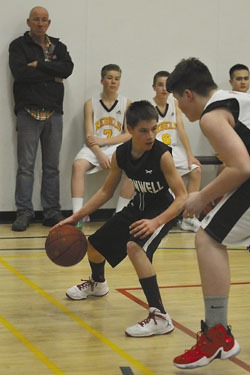 Times photo by Greg Price
By Greg Price
Taber Times
gprice@tabertimes.com
It was an end of an era at the recent Barnwell School charity auction/basketball doubleheader early this month.
As bids have closed in the school's upcoming modernization, it was the last charity cake auction that will be featured in the school's present gymnasium, that saw the corresponding girls and boys basketball games watched by a crowd that was standing room only with the packed seating.
"We raised just shy of $8,500, which I think is fantastic. Last year was a little higher because we were just coming off the announcement of the new school," said Aaron Edlund, vice principal at Barnwell School and master of ceremonies at the charity cake auction. "This year didn't disappoint."
There were 10 cakes that were auctioned off with a Snickers cake netting the top bid at $1,000. The cakes brought in over $6,000 with the rest coming from private donations and food/drink sales.
W.R. Myers made a return as the opposition for the twin bill of basketball games, with the Barnwell Trojans coming out victorious in both hard-fought games on both sides.
"They were both super competitive in the first half and then Barnwell got hot and pulled away. It is sort of like the Sugar Bowl (in Raymond), where it seems to have like a 20-point effect for the home team. They are never as good as they are at the Sugar Bowl. The same here," said Edlund. "Sometimes the Barnwell kids get really anxious by the crowd because they are not used to playing in front of people. League games are at 4 p.m. and so maybe grandma and grandpa can come, but mom and dad are still at work. To put a big audience before them can go in two different directions, either really freak them out or fire them up. You hope it gets them fired up on both sides of the court, not just our team. I think it's a special atmosphere and I'm more happy sharing it with Myers."
It was a bitter-sweet moment for those in attendance as fans wonder if the same electric atmosphere will be prevalent in Barnwell's new gym which is expected to be operational in 2017. In the meantime, while construction is going on, Barnwell will be doing its athletics at Central School.
"I've spent a lot of time in the gym over the last 10 years and it sort of drove me crazy with it being tiny and it being stinky and the pillars are in the way. But it will be hard to see it go. Just with nostalgia, people are going to be sad to see it go," said Edlund. "There are a lot of people who have put way more time than me in the gym and that gym has been home to some kids who have played college basketball. The sport can open doors for people. During those games, there were people in every corner and every door, packing themselves in. That's pretty cool for junior high kids I think."
The fundraising for the cake auction goes to offset the costs of athletics for children at the school which sees its fees among the lowest in the province.
"Numbers seem to be dwindling in things like hockey and football, and with every sport actually, where it doesn't seem to be up there as much. But, we are happy to see sports thriving at the school," said Edlund. "There are so many things you can learn through sport that has nothing to do with running, or jumping, or throwing or catching. There are a lot of life lessons in sport. There is character building in sports."