Celtics make championship final in home tourney
Posted on January 20, 2016 by Taber Times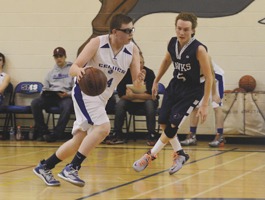 Times photo by Trevor Busch
By Greg Price
Taber Times
gprice@tabertimes.com
St. Mary's Celtics boys basketball team are beginning to find its groove more as the squad earned a silver-medal finish at its Celtics Invitational Basketball Tournament on Saturday.
The Celtics started its solid tournament run with a big 87-37 win over Matthew Halton on Friday evening.
Jobert Cruz poured in 22 points for the Celtics and Chance Ficek hit for 15 points.
"Everyone had a good chance to play and we played a 3-2 trap that was effective for us," said Ken Gabruck, head coach of the St. Mary's Celtics boys basketball team.
"They were a young team and they committed a lot of turnovers, and the trap resulted in a lot of open lay-ups for us."
Saturday morning's contest was a 72-41 win over Crowsnest Consolidated in which Cobie Cobarrubias went off for 26 points with the hot hand beyond the arc.
"Cobie got hot in the second half, he hit five consecutive threes, all from the same spot on the floor. We put him into a new position and it was a matter of getting the right rhythm and tempo to his shot. Previously he was playing the other side of the court and he was hurrying his shot too much," said Gabruck, adding Cruz and Ficek scored 17 and 14 points respectively.
"It was a carbon copy of the first game where the trap was effective and resulted in a lot of uncontested lay-ups for us."
It set up a championship final with the powerhouse Vauxhall Vikings. The Vikings blew out the Celtics the previous week in league play, but showed improved play this time in a 93-66 loss.
"Our goal for the game was to improve on the performance we had the previous week. Playing against Vauxhall, the majority of their players are form the baseball academy and they are elite athletes. When you are playing against elite athletes from across Canada and the bulk of our team is Grade 10, it's difficult," said Gabruck. "Jobert has a lot of responsibility for a Grade 10. He is the focal point of our trap for us and he's the main ballhandler running the offence. When you are playing against an elite group of athletes like that it's difficult, but he did a good job. Overall, it was a better outing we had against them than a week ago."
Cobarrubias poured in 32 points and Cruz notched 22 points.
"Another player who has shown a big improvement is Chris Meldrum. He had a good weekend defensively. His rebounding has improved and that's really going to help us down the stretch," said Gabruck.
The Celtics host Milk River tonight with the St. Mary's Auroras girls basketball team playing at 6 p.m. followed by the Celtics at 8 p.m.
"We are definitely seeing improvement with the work in progress. The kids have gained a little bit of confidence now," said Gabruck.