St. Mary's Celtics hosting basketball tournament
Posted on January 13, 2016 by Taber Times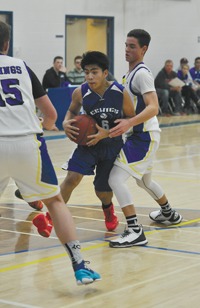 Times photo by Greg Price
By Greg Price
Taber Times
gprice@tabertimes.com
As the St. Mary's Celtics boys basketball team is still learning its lessons as it slowly gets to full strength, that lesson was a tough one this past Wednesday against the Vauxhall Vikings in a lopsided River Ridge Basketball League loss on the road.
"Playing against such a strong team this year like Vauxhall has, it's one of the stronger groups they've had of (Vauxhall Academy of Baseball) players who play basketball in a decade or so," said Ken Gabruck, head coach of the St. Mary's Celtics boys basketball team. "They have the whole package this year. They have the aggressiveness, the athletes and the mental toughness that they maybe lacked before in one area in previous years. It was really tough on our kids to handle that in any aspect. We were outmatched in every facet of the game and the kids got frustrated."
That being said, Grade 10 point guard Jobert Cruz returned to the Celtics lineup for the first time after being away in the Philippines and proceeded to drop 25 points in the contest despite being severely outgunned.
"That was his first game this season. He played exceptionally well against the stronger athletes and I think he gained some respect from the Vauxhall players with his abilities," said Gabruck. "He will be a big step in getting our offence running. He is a very confident player even though he is only in Grade 10. He is going to make Grade 10 mistakes, but he had a great second half."
The Celtics now host its home tournament this weekend at St. Mary's as the Celtics' first game is on Friday at 6 p.m. against Matthew Halton. A win has the team playing at 1:15 on Saturday, with a loss putting the Celtics game at 9:45 a.m. on Saturday.
"Coming off playing such a strong team in Vauxhall, our teams in our half of the draw are not going to be as strong and the kids will have a little more opportunity to play in control and set up our systems. The constant pressure will not be continual for the whole game," said Gabruck. "We will still be a little shorthanded with a couple of players out with injury."