Rebels dominate way to tourney title
Posted on January 13, 2016 by Taber Times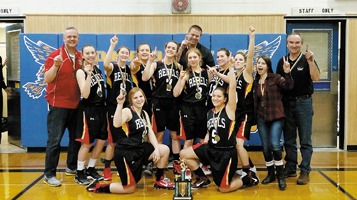 Times photo submitted
By Greg Price
Taber Times
gprice@tabertimes.com
Another tournament, another string of dominant play by the W.R. Myers Rebels varsity girls basketball team.
The team won another tournament over the weekend with a 66-46 win over Lindsay Thurber in the championship at a tournament at Bev Facey Community High School in Sherwood Park over the weekend.
Hayley Lepard had a monster game with 23 points and 17 rebounds. Millay Johnson had 15 points. Natalie Hoyt had 12 points and Paige Wood chipped in 10 points to go with nine rebounds.
"We had played this team two years ago and also last year, and we had won both prior meetings, but they weren't easy games. We knew we would have to play well to win again and I'm sure they didn't want to get beat again by us," said Kenney Wood, head coach of the W.R. Myers rebels varsity girls basketball team. "We once again came out quite strong, and were leading 24-12 at the end of the first quarter. The other three quarters were quite even, it was a much closer game than 20 points."
W.R. Myers Rebels varsity girls basketball team started its tournament run with a suffocating defensive effort in a 67-24 victory over Lloydminster.
Hoyt had 15 points to go with eight rebounds. Lepard and Wood both added 11 points apiece.
"We came out extremely focused in this game. With this being an all 4A tourney and us being the only 3A team, we had something to prove," said Wood. "Everyone was able to score in this game and everyone is getting things figured out with what they need to do to help the team. Our defence was overwhelming to Lloydminster and they couldn't adjust to get their offence going."
To get to the championship final, the Rebels beat Strathcona 65-33.
Johnson and Lepard had identical double-doubles of 20 points and 10 rebounds. Hoyt poured in 17 points and Paige Wood hauled in 12 rebounds.
"We had Genna Wright and Keegan Brantner away for this game at an Alberta rugby tryout, so we were down to seven players. We had to change our game plan a little bit," said Wood. "By the final quarter, the girls really dug deep, and even though they were tired, they played outstanding defence and held them to two points, while we put up 22."
The Rebels also competed in Southern Alberta High School Girls Basketball League competition last week where the squad beat Kate Andrews Pride 59-22.
"We had just played Kate Andrews in the final of their home tournament, so we knew what we were up against," said Wood. "We set some defensive and offensive goals and were able to achieve them. Everyone scored on our team and gained confidence in their abilities."
Four players reached double-digit rebounds including Wright and Tiffany Olsen with 10 boards each. Wood had the double-double of 10 points and 10 rebounds and Lepard netted nine points to go with 17 rebounds. Rachel Jensen chipped in nine points.
"All the girls are improving every game. We are learning how to be a better team and what we need to do to continue to get better," said Wood of his Rebels squad which now sits at 12-1 on the season. "Our next game will be another test, which is Cardston in Cardston. That is always, always tough."