Novice teams tussle
Posted on January 13, 2016 by Taber Times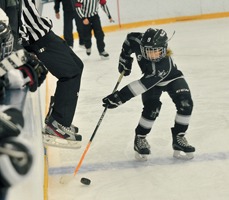 Times photo by Greg Price
Minor hockey action saw both novice teams compete against each other on Saturday at the Taber Arena with Novice 2 Oil Kings beating Novice 1 Oil Kings 8-5.
Tage Jensen tallied four goals for the victors with Lincoln Weiss, Konnor Wiebe, Langdyn Cummins and Samuel Tolsma notching singles.
Replaying for Novice 1 Oil Kings were Kayden Kress and Chase Stronge with two goals apiece and Damian Beswick with a single. Shaylee Debona came up huge in net, stopping numerous breakaways.
ATOM: Taber Atom 'A' Oil Kings dropped both of its games over the weekend.
The first was a 9-5 loss to Airdrie on Saturday.
Connor Eldridge and Carter Jensen both had two goals apiece and Kade Duell notched a single. Duell also had two assists with Hunter Damberger and Kyler Marchuk getting single helpers.
The team was then edged 8-7 by Okotoks.
Duell potted the hat trick to go with an assist. Matthew Gensorek had two goals and two assists and Eldridge had a goal and an assist. Heath Hansen had one goal. Damberger, Marchuk, Walker Skiba, Callie McCulloch and Connor Chapman each had single assists.
Atom 'B' Oil Kings were also in action at a tournament this past weekend in Lethbridge where the squad recorded a 2-2 record.
The two losses involved 3-0 defeats at the hands of Red Deer and Lethbridge Swat respectively.
A Saturday victory involved an 8-4 doubling of Lethbridge Gators.
Jayden Holland had the hat trick and Alex Makarchuk had two tallies and Carson Love, Hayden Span and Ashton Lukacs each had singles. Jaxson Coutts recorded two assists with Vance Kramer, Span and Evan Rabusic getting single assists.
The team's other victory was an 11-4 win over Medicine Hat on Sunday.
Span and Makarchuk each had hat tricks. Rabusic had two goals and Love, Coutts, and Lukacs had singles.
Holland, Makarchuk, Span and Evan Friesen all had assists.
INITIATION: Both Taber initiation hockey teams played each other on Saturday at the Taber Arena, with Taber 2 beating Taber 1 by a score of 13-11.
Scoring for Taber 2 were Lincoln Wiebe, Ethan Volk, Nixen Miller and Madix Miller all putting up hat tricks. Burke Hyland had a single.
Replying for Taber 1 were Cruz Duell, Heston Hansen and Nathan Gensorek with hat tricks. Raiden Koizumi had two goals.