Times reviews 2015 sports headlines
Posted on December 30, 2015 by Taber Times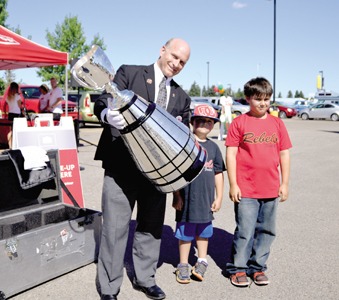 Times file photo
JANUARY: Measuring Day 2015 for the Taber Fish and Game Association proved to be another success with over 70 entries submitted and hundreds attending the event at the Taber Community Centre. The Taber Fish and Game Sorgard Memorial All-Around Sportsman of the Year was given to Devin Werewka.
Taberite Kaleb Muller is about to enter the largest stage of his young short-track speedskating career. Muller qualified for the Canada Winter Games by earning a spot on the Alberta team after accumulating enough points from two qualifying races in Calgary.
Sunday's tilt in South Central Alberta Hockey League play between the Taber peewee "AA" Golden Suns and Lethbridge Hurricanes White at the Taber Arena lived up to its billing. The top two team in the South Division skated to a 5-5 draw.
Time is ticking down for those who want a chance to help shape recreation in Taber in a long-term vision. The Town of Taber is undertaking a Recreation Master Plan in 2015 and will be hosting a workshop on Jan. 28 in the auditorium of the Taber Community Centre to allow recreation stakeholders to give feedback.
You are only as good as your last game. At least that's how the W.R. Myers Rebels varsity girls basketball team are taking it after coming firing out of the gates to a 12-0 record. "The record is a great accomplishment, but I'd obviously prefer to be 12-0 in our last 12 games rather than our first twelve," said Kenney Wood, head coach of the W.R. Myers Rebels varsity girls basketball team.
The Ken Blaney rink of Don McCann, Dale Cummings and Rick Smith earned first in the 'A' event of the 2015 Men's Open Bonspiel which concluded over the weekend at the Taber Curling Club.
FEBRUARY: Taber peewee "AA" Golden Suns (23-5-1) were victorious in both its games in South Central Alberta Hockey League play over the weekend.
The solid season for the W.R. Myers Rebels varsity girls basketball team continues as the squad reeled off its 14th straight win. Provincial 3A powerhouses in the Magrath Pandas and Rebels, according to the Alberta Schools Athletic Association rankings, squared off last Wednesday with the Rebels taking the contest 51-37 at home.
W.R. Myers Rebels varsity girls basketball team pushes its record to 18-0 thanks to a 49-35 win over Stirling Lakers in the championship final of its home Rebel Classic basketball tournament. The Rebels boys basketball team took fourth in the tournament.
There were 20 teams that participated in the Taber Ladies Bonspiel earlier this month at the Taber Curling Club, as the festivities included 2015's theme being 'Prom.' First event champions were the Lethbridge rink of Nanette Dupont, Lisa Friesen, Kendra Nakagama and Brenna Draper.
Barnwell Trojans Tier II basketball team won divisionals on Feb. 6 in Enchant.
The Town of Taber is pushing forward with a request for proposals for new dressing rooms at the Taber Arena over the objections of administration. At their Feb. 9 meeting, town council voted unanimously to continue with an RFP related to the construction of new dressing rooms for the Taber Arena.
In a battle of two evenly-matched teams, it will come down to tonight to see who advances past the first round of SCAHL playoffs between the Taber midget "AA" Golden Suns and the Lethbridge Hurricanes. Both teams earned victories on the road to push it to tonight's game which goes at 8:15 p.m. at Henderson Arena in lethbridge. Taber midget "AA" Golden Suns were able to earn a 4-3 overtime win on the road, with the game winner by Brandon Langridge.
MARCH: W.R. Myers Rebels varsity girls basketball team made it to the championship final of the Hunting Hills tournament, before falling to the Magrath Pandas 78-59 to take the silver.
All four Taber wrestlers that made their way to rural provincials in Grande Prairie this past weekend have qualified for provincials with their strong showings. Kathrin Waeckerlin won gold in her weight category.
The idea of the construction of a multi-use dry sports facility in the Town of Taber continues to get floated to several delegations. Having already made a pitch to town council and to stakeholders at a recent recreation master plan workshop, Graham Abela made a presentation to the Taber Recreation Board at its March 5 meeting.
Whether or not town council decides to extend its agreement with Sponsorship Connections to June 30, 2016 with no extra cost to the town, it looks like the Taber Recreation Board didi not exactly deliver a ringing endorsement to do so.
W.R. Myers Rebels varsity girls basketball team are heading into provincials as hosts with plenty of momentum, having won the 3A south zone banner this past weekend at Winston Churchill. The Rebels dominated the Magrath Pandas 85-54 in the zone championship game. Natalie Hoyt went off with 35 points.
The Town of Taber's failed recreation sponsorship contract has received a one-year lease on life, but a split vote suggests not all councillors are satisfied with the performance of Sponsorship Connections. Town council voted 4-3 to execute the contract amendment presented reflecting the term be extended to June 30, 2016. Coun.(s) Andrew Prokop, Laura Ross-Giroux, Rick Popadynetz and Randy Sparks voted in favour of the motion. Mayor Henk DeVlieger and Coun.(s) Joe Strojwas and Jack Brewin were opposed.
Taber celebrated the grand opening of its new gymnastics complex located at 5336 48th Ave. as the sport continues to make many positive steps forward.
It was not the colour of medal they wanted at provincials, but the W.R. Myers Rebels varsity girls basketball team bounced back quite nicely to take bronze in 3A on its home court with a 61-46 win over Edmonton Christian Lions.
A road well traveled made the Taber bantam Oil Kings make Central Alberta Hockey League history with a Tier IV championship.
Vauxhall Academy of Baseball ambassador Yukio Kitagawa is continuing the journey with his Pennies for Ks fundraising campaign as he combines his love of the academy with his love of cycling . On March 20, Kitagawa broke the 10,000-kilometre barrier on his way to his goal to cycle 100,000 kilometres in the next 10 years.
APRIL: There were 15 local powerlifters at the 2015 Canadian Drug Free Powerlifting Championships, many of which had Canadian record lifts.
The 4-on-4 Hockey Tournament which officially ends the hockey season in Taber went off relatively smooth according to recreation supervisor Trent Smith. The last couple of years the 4-on-4 Hockey Tournament has come under increased scrutiny as the event was nearly denied ice in 2014 due to improper alcohol consumption concerns and verbal abuse of town employees back in 2014. The 4-on-4 Hockey Tournament has been a regular fixture in Taber since 2004.
Are you ready for some football? Taber's bantam football team hopes the answer to that question is a resounding yeas. The bantam team will open its spring camp on April 21.
Dale Tillman is the Taber Sports Hall of Fame's newest inductee. Tillman was inducted for his impact on baseball in southern Alberta before a packed house at The Heritage Inn.
A group of dog enthusiasts has been asked by the Taber Recreation Board to bring back detailed plans of an exact vision of the improvements they would like to see for the off-leash dog park before Sept. 1 so that they can be considered for 2016 town budget deliberations.
W.R. Myers Rebels varsity girls rugby team returned from its rugby tour in Wales in a very successful tour of duty.
For Kaleb Muller, it doesn't matter if the ice is on a short track or long track. Muller had an impressive year capped at the Enmax Centre when he was named top junior male athlete at the Lethbridge Sport Council's fifth annual achievement awards.
The tradition of excellence in badminton at St. Mary's School has continued. The school went out to a mega tournament in Medicine Hat once again and dominated in the wide field as defending champions.
Progress on the town's arena dressing rooms addition project has stalled following the rejection by town council of all bids received which exceeded the estimated budget.
Town council voted unanimously that pursuant to Bylaw 8-2009, council determined the Town of Taber Combative Sports Commission will have five members until a different membership structure is established.
MAY: Three Taberites, Wyatt Thurston, Evan Harkness and Granger Leth made their mark at this past weekend's Southern Alberta Minor Football Association all-star game at the University of Lethbridge.
W.R. Myers Rebels varsity girls rugby team were quite stingy on their way to a tournament title in Edmonton. Winning all three matches in dominating fashion, the Rebels did not surrender a single point along the way.
The depth of the W.R. Myers Rebels junior varsity girls rugby program shone through at a tournament in Lethbridge. Despite missing three big cogs in what is the Rebels Rugby machine, the team still managed to win all four of its games, and in convincing fashion.
And that's why they play the games. Going in as the 13th seed at Div. III U15 girls provincials, the Wham! Enigma club volleyball team emerged with the banner as provincial champions.
The Taber bantam Rebels football team's coaching staff was named Southern Alberta Minor Football Association coaching staff of the year, capping a successful season in which the team won the Division III championship.
Three local gymnasts competed at the Hollywood Classic in Calgary. It had been 20 years since someone from Taber had competed in a gymnastics event.
It was the perfect way to end a near-perfect season as the W.R. Myers Rebels junior varsity girls rugby club went undefeated in their first home tournament.
A come-from-behind triumph over Eagle has allowed the W.R. Myers Rebels baseball team to squeeze into Tier II provincials this weekend in Crowsnest Pass.
JUNE: The success of the Paul and Bernice Giroux Memorial Charity Golf Tournament was self evident, even before a swing was taken at the Taber Golf Club on Saturday afternoon, filling up in 24 hours.
There was over $8,000 raised at last year's inaugural tournament which organizers expect the same this year.
It was one and done for the W.R. Myers varsity girls rugby team who suffered a tough 24-5 loss to F.P. Walshe in Fort Macleod last Wednesday in the league championship semifinal for the tier.
Three Vipers earned aggregate medals at a swim meet in Claresholm. Isabelle Bennett won the silver medal for 15-to-17-year-old girls, Chance Cook won the bronze medal for 13-to-14-year-old boys and Lauren Pack won the bronze for nine-and-10-year-old girls.
As spring make sits way into summer, the W.R. Myers Rebel softball team is feeling the fever of a promising fall on the gridiron if a recent spring jamboree in Medicine Hat is any indication. The Rebels played four games, earning a 2-1-1 record, playing games against Brooks, Medicine Hat, McCoy and Strathmore.
Taber Recreation board has recommended to town council that the fourth ball diamond be considered for completion at Ken McDonald Memorial Sports Park.
Almost every single member of the Taber Viper Swim Club competed at the club's home meet at the Aquafun Centre on Saturday, bringing home numerous aggregate medals in the process.
Taber Recreation Board members are crunching the cost numbers — and the presentation of the delegation on the proposed multi-use dry sports facility to see if they will throw their support behind the $8-11 million-dollar initiative to town council. Multi-use sports complex committee members Graham Abela and Bruce Warkentin were on hand to present the latest findings of the committee of a feasibility study they had commissioned from an architectural firm out of Saskatoon.
Lingering questions surrounding the design for the town's arena dressing room addition has prompted town council to issue a change order to include a second referee dressing room to the scope of the project.
The Vauxhall Spurs split an exhibition doubleheader versus Medicine Hat over the weekend. In the first game, the Spurs took a 16-13 loss, but bounced back with an 11-4 win in game two.
JULY: Dust off your cowboy hats and boots, it's Taber Pro Rodeo time once again. Starting this Friday, rodeo fans will be treated to a little bit of everything, including bull riding, saddle bronc, barrel racing, and calf roping.
While the Barnwell Trojans were unable to recapture the 2J South Zone Track and Field Championship as a team, Denzel Gross (long jump), Dylan Johnson (3000-metre) and Kitawna Sparks (high jump) brought home individual banners for the school.
In its quest for provincial glory, the Taber U16 girls soccer team had a heck of a warm-up tournament. The team went 4-0, in dominating fashion to the gold medal in Millet.
The Town of Taber has agreed to waive diamond costs and camping fees associated with an Angels in the Outfield charity slo-pitch tournament hosted during the 2015 Cornfest celebrations in August.
Taber/M.D. of Taber once again shined at the Southern Alberta Summer Games which concluded on Saturday in Claresholm. The area finished second only to the host region of Willow Creek in tootle points with 2850, although they diid outpace them in aggregate points with 422.
The 2015 Southern Alberta Summer Games had an unusual competitor in Claresholm earlier this month. But the pilot who flew a single-prop plane likely did not meet the qualifications for the cycling event on July 9. Locals had a bit of a scare when they noticed the single-prop plane had ot make an emergency landing due ot low fuel at the Claresholm Industrial Airport —while children were still competing on the runway in the cycling event.
It is a new era for the mixed slo-pitch tournament in Vauxhall. A tournament that used to be one of the longest continuos running slo-pitch tournaments in North America, went on a one-year hiatus as volunteers have passed it off to a new set of volunteers.
Shooting enthusiasts both within the Municipal District of Taber and beyond, mark your calendars. he Taber Sport Shooting Complex will be holding its grand opening on July 25.
It was an offensive barrage for the Taber U12 boys soccer team, as the squad managed to bring home gold at Tier IV Cities Provincials in Edmonton.
In a Montana American Legion 'A' Baseball season in which the Vauxhall Spurs were searching for its identity all season long, the team found a very favourable one at Spitz Stadium in Lethbridge — North District champions.
Taber U16 girls soccer team had a medal moment at Tier IV city provincials in Edmonton. The squad was able yo take home the bronze medal amid some controversy that pushed them to the bronze medal match.
AUGUST: Taber Motorsports Park will have some gems of high-octane action with the ATV Triple Crown.
It is a slo-pitch league that continues to make inroads in southern Alberta and looks to be a positive link for Mennonite youth. Currently there is a Mennonite slo-pitch league that features 16 teams that have both adults and youth featured.
Different sport — same level of dominance. Taberite Kaleb Muller was the overall stage winner at the Tour de Bowness for Category 5 cycling.
There were nine locals who have qualified for Alberta Summer Swimming Association provincials in Edmonton.
It looks like Taber football has been ahead of the curve when it comes to player safety. Earlier this month, the Canadian Football League and National Football League announced a joint initiative to implement the King-Devick concussion testing program. The program is something the Taber bantam football team has already began implementing since 2013 and will be implemented at the high school program as well.
Coming off a Division III championship last year, a jamboree where the Taber bantam Rebels football team went undefeated shows promise for the upcoming season.
Kaleb Miller takes bronze at Bragg Creek for mountain biking provincials.
W.R. Myers Rebels football team added to the revelry of Cornfest with an utterly dominating performance over McCoy in a 42-2 win at Ken McDonald Memorial Sports Park.
Taber Viper Swim Club end its season handing out its year-end awards where Darci Wright (Performance of the Year), Morgan Bos (Viper of the Year), Bronwyn McClenaghan (Rookie of the Year), and Emily Carver (Most Improved) were recognized.
SEPTEMBER: W.R. Myers Rebels football team were soundly defeated by Catholic Central Cougars 42-0 in a preseason game.
As girl's rugby in the area continues to make inroads, two local athletes are now firmly entrenched on the national team's radar. Two girls on the W.R. Myers Rebels rugby team competed as part of provincial teams this past summer and their stellar efforts have meant they are now on the watch list for Canada.
Allegations of metal spikes and other debris found on the football field at Ken McDonald Memorial Sports Field prior to a recent high school game has seen some conflicting opinions from the town and minor football as to the extent of the problem, and who was ultimately responsible for the oversight.
The W.R. Myers varsity girls volleyball team won the early-season tournament, bringing home the gold in just their first week of competition.
It was a tight 20-13 loss for W.R. Myers Rebels football team against the Winston Churchill Bulldogs on Fan Appreciation Night.
Swimming lesson registration continues to be muddled in troubled waters, as once again frustrations were evident in the long line ups for registration. With people showing up as early as 2 a.m., people had to be turned away as it looked like demand outstripped supply.
St. Mary's Auroras varsity girls volleyball team continues to shine when it comes to tournament play, emerging as champions the last two weekends. A championship in Three Hills was followed by a tournament win at Kate Andrews in Coaldale.
The Taber bantam Rebels football team exploded for three touchdowns in the second quarter to pull away from the Parkside Pythons in a 39-9 victory on the road.
OCTOBER: If there is anything Taberite Brandon Davidson has proven in his hockey career, it is not to bet against him.
Davidson has taken every challenge head on and emerged stronger than before. Oct. 5 proved no different as the sixth-round NHL draft pick of the Edmonton Oilers finally made the opening-day roster, as the Oilers' final cut was made to get the active roster down to 23 players.
Taber peewee "AA" Golden Suns took tow games against Okotoks Oilers on the weekend in the early going of the 2015-2016 South Central Alberta Hockey League season.
For three straight years the Taber bantam Rebels football team and the Lethbridge Bulldogs have had tight tilts. Their latest game proved no different in a 14-7 Rebels win to push the team's record to 4-1 as the squad heads down the home stretch to playoffs.
Those hunting for a good time will have to look no further than the Fifth Annual Taber Pheasant Festival which goes until Oct. 24.
St. Mary's Celtics boys volleyball team earned a third-place finish at its home Double Blue Volleyball Tournament.
The regular season is over, and it's on to the playoffs for the Taber bantam Rebels football team. Taber finished with a 5-1 record with a convincing 54-22 win in Coaldale over the Pride.
Taberites were part of the provincial Taekwon-Do championships in Calgary where Aiden MacDonald, Evan Abela, Abby Abela, Brennan Abela, Cruz Rauda, Jocelyn Planger, Kennedy Planger, Grace Holowiski, Torrance Gedny, and Jenna Klok medaled.
Rob Swan is a man on a mission. That mission, which he has chosen to accept, is to give a face lift to his beloved curling facility in small-town New Brunswick. So Swan spearheaded a Curling Across the Nation initiative which made its way to the Taber Curling Club.
With the help of Mother Nature and the strong continued belief in his cause, Vauxhall Academy of Baseball philanthropist Yukio Kitagawa is ahead of schedule in his Pennies for Ks campaign. As of Oct. 21, Yukio broke the 25,000 kilometre mark in his plan to cycle 100,000 kilometres for the 79-year-old cyclist.
A local hunting festival has been recognized for sustainable tourism efforts. The Taber Pheasant Festival was handed an Alto Award for Outstanding Sustainable Tourism Award at the 15th Annual Travel Alberta Industry Conference in Banff.
NOVEMBER: W.R. Myers Rebels varsity girls volleyball team will be the walking wounded as the squad prepares to host the Southern Alberta Girls Volleyball League post-season tournament without some of its starters.
Former pro boxer Joel Mills has been recently appointed to serve a three-year term on the Taber Recreation Board.
St. Mary's Celtics boys volleyball team will be going into 2A provincials with plenty of momentum as the squad earned the 2A South Zone banner at Lethbridge College.
W.R. Myers Rebels football team had some of its players selected as Division 'B' all-stars including Bradley Marsden (wide receiver), Taylor Blacquier (linebacker), Colton Terry (safety), Brenden Friesen (offensive line), and Wyatt Thurston (defensive line).
D.A. Ferguson Middle School and W.R. Myers High School have announced they will be merging the Middle School and Grade 9 volleyball and basketball programs.
For a ship that has seemed adrift for years in the waters of the Western hockey League, it looks like the Lethbridge Hurricanes are now being steered in the right direction. The Lethbridge Hurricanes have not made the playoffs in the last six seasons, have had players demand trades and have suffered financial loses. But the squad currently sits at 17-9-0-0, four points out of first place in the Eastern Conference with a game in hand.
Nancy Csabay's dream barrel racing season concluded at the Canadian Finals Rodeo where she earned $57,000 in prize money and earned the 2015 Canadian Barrel Racing Champion title.
DECEMBER: Last year, the W.R. Myers Rebels varsity girls basketball team started its season 18-0, won multiple tournaments including the 3A South Zone banner and were bronze medalists hosting provincials. This year, the team has the potential to be just as good or even better according to the head coach as the team prepares to host its home opener for the 2015-2016 season.
Taber novice 1 Oil Kings hockey team went undefeated at its home tournament at the Taber Arena on their way to the gold medal.
It was utter dominance for the W.R. Myers Rebels varsity girls basketball team in its tournament run at Kate Andrews as the voyage to the title had no victory under 20 points. It capped a successful week where the team also pushed its record to 3-0 in league play.
Taber bantam "AA" Golden Suns (13-5-3) skated to a 3-3 draw against the Okotoks Oilers (13-4-3) heading into the Christmas break, as the top two teams in the South Division squared off.