Taber Recreation Board recommends lease details be finalized for tactical paintball and airsoft association
Posted on December 30, 2015 by Taber Times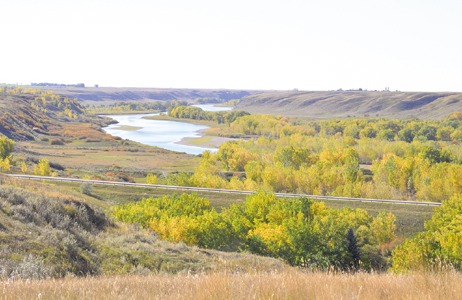 By Greg Price
Taber Times
gprice@tabertimes.com
Taber Recreation Board has recommended to town council that a lease of five years be entered with the Tactical Paintball and Airsoft Association of Southern Alberta on a piece of town-owned land south of the Oldman River and west of Highway 864, near the M.D. of Taber Park.
The need for the lease was discovered when it came to light between the two parties that the last lease between the two organizations had expired on June 30, 2011, and liability concerns were raised as to who would be responsible if injury were to occur with no formal lease in place for insurance purposes.
"We want to be able to use the land to host games and using the local economy. Using hotels and when we do our barbecues down there, we buy local. We try and support local businesses as best as we can when we are here," said Martin Spiegelberg, president of the Tactical Paintball and Airsoft Association of Southern Alberta, in his opening remarks to the Taber Recreation Board at its Dec. 3 meeting. "We do a lot of charity where three times we supported the Taber Food Bank, taking donations as part of the entry fee onto the field."
Eric Trudel, another representative with the Tactical Paintball and Airsoft Association of Southern Alberta outlined for the recreation board the organization's membership. The organization itself which gives voting privileges had 48 members in 2014 and grew to 85 in 2015. For day-pass memberships where people can play anytime they want, there were 169 day passes issued in 2014, with 228 in 2015. Cost for yearly membership are $0 with drop-in fees of $10 for day passes.
"Over the past year, we have been pushing for more participation. There were guys that came out from Medicine Hat at least a couple of times I can remember. We've had guys all the way from Grande Prairie, Edmonton, Calgary, and Lethbridge along with local kids," said Trudel of day-pass excursions. "Our membership (costs) are considerably less than the Calgary areas. We had a game of 92 people with airsoft with people who came from Calgary, and they were very impressed by the area. And even with their cost, they have to go out of town."
The organization was originally called the Taber Paintball Association, but as membership grew with a wider scope, the group added airsoft and southern Alberta in its moniker to be more representative of the group.
Taber Recreation board chairman asked the delegation for clarification of what airsoft was compared to paintball which he was familiar with.
"Airsoft is a fairly new concept in North America. Airsoft is a six-millimetre BB that we have stated has to be biodegradable. Because of their size, they shoot farther and straighter, from 200 to 250 feet," said Trudel. "There is not paint at al. You hear it hit you or you feel it hit you and it's an honour system and you have to call yourself out. Paintballs actually hurt worse having 12 joules of force and airsoft isn't allowed to go over 1.6 joules of force."
The organization stresses that anything that any ammunition that is shot on the piece of land in question is biodegradable to make for environmentally friendly cleanup.
"Some of them are made from a biodegradable plastic. Some companies don't want to tell you what theirs is made of, they want to keep it a secret, but it's starch based and within a year you won't be able to see any mark whatsoever," said Trudel.
As events are planned, Spiegelberg noted the organization goes down to the area with garbage bags and trucks every spring to clean up the area.
"Guys walk the field and pick up garbage. Hate to say it, but there's a lot of people who walk under that bridge and leave considerable messes, so it's kind of good on us that we go down and clean that up," said Spiegelberg. "We have helped with campground clean up as well. We are there to keep the field clean, have fun and be safe."
Responsibility was taken on both sides with the organization and the town as to how the lease could have been allowed to lapse for over four years.
"Both the Town of Taber and your organization dropped the ball on the lease," said Randy Sparks, recreation board member and Town of Taber councillor. "Guaranteed, this won't happen in the future."
Shaun Hammond, secretary for the Tactical Paintball and Airsoft Association of Southern Alberta noted there was huge turnover with the board of the organization back in 2009 in which since then, only he and Spiegelberg remain since then.
"What we were told back then was everything was fine for five years, see you again in 2016 and then I got a phone call and that's why we're here," said Hammond.
Entrance to the paintball field is gained through a gate in which only one of the board members can open.
"Nobody else knows the gate code key. If anyone else is in that area, they ain't supposed to be in there," said Hammond. "There's one of us that opens the gate and after the games, one of us is closing it (first one in, last one out)."
The recommendation to town council is that it consider entering into a five-year lease arrangement with the Tactical Paintball and Airsoft Association of Southern Alberta for use of the land described as NE 12-10-17W4M, for an area of approximately 9.4 acres, in which proper insurance is put into place by the organization for the lease.