Early Christmas present wins for teams
Posted on December 22, 2015 by Taber Times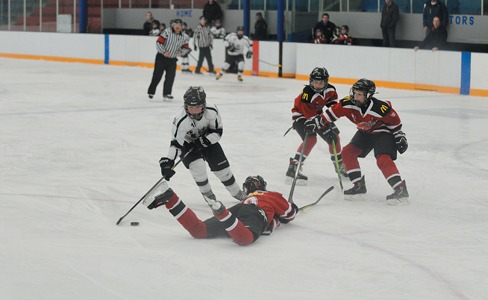 Times photo by Trevor Busch
By Greg Price
Taber Times
gprice@tabertimes.com
Taber atom 'A' Oil Kings had a solid weekend on the ice in minor hockey, recording a tie and a win.
Oil Kings tied the Beiseker Blazers 9-9 in a tight back-and-forth game on Saturday.
Scoring for Taber was Connor Eldridge and Kade Duell, each with hat tricks.
Eldridge and Duell also each had a single assists. Matthew Gensorek had one goal and two assists. Heath Hansen and Carter Jensen each had one goal.
Kyler Marchuk, Hunter Damberger, Connor Chapman and Walker Skiba each had one assist.
On Sunday, the Oil Kings beat Chestermere 8-5.
Scoring for Taber was Kyler Marchul, Duell and Eldridge with two goals each. Marchuk, Duell and Eldridge each had single helpers. Gensorek and Jensen each had one goal. Hansen and Matteo Blasseti each had one assist.
Taber atom 'B' Oil Kings were also in hockey action, splitting its pair of games.
The first was a 9-7 loss to Raymond at home on Saturday.
Evan Rabusic, Jayden Holland and Hayden Span all had two goals apiece and Evan Friesen had a single. Vance Kramer recorded two assists with Erik Grimson, Carson Love, Ashton Lukacs, Holland, Friesen and Span had single helpers.
The team bounced back with a 12-8 victory over Kainai on Sunday on the road.
Holland netted four goals and Span had the hat trick.
Lukacs had two goals and Tristen Egeland-Cusker, Kramer and Rabusic had singles. Egeland-Cusker and Kramer also each had three assists. Friesen and Holland had two assists apiece with Rabusic drawing the single helper. Erik Grimson got the win in net.
PEEWEE: Taber peewee Oil Kings split its two games in minor hockey play over the weekend. There was an 8-5 loss to Innisfail on Saturday with Luke Turgeon in goal. It was followed by a 6-3 win over Okotoks Gold on Sunday with Talen Damberger in goal.
Michael Stronge had two goals and three assists combined in the two games. Brylan Span had two goals and two assists. Carter Hendricks had a goal and two assists. Carson Komery had two goals to go with an assist. Joey Fabbri drew three assists. Byron Kress had two goals and Logan Kromm had two assists. Ty Fitch and Cooper Ross each had goals. Jack Murphy, Brayden Kaye, Kole Reynolds, Brendan Appleton and Cassidy Phillips each had single helpers.
NOVICE: Taber novice 1 Oil Kings earned a 1-0-1 record over the weekend.
The team tied Raymond 10-10 on Saturday with Jaida Peters in goal. Sunday's tilt was a 9-5 win over Irvine with Zachary Fehr in goal.
Chase Stronge scored seven goals over the weekend with Nathan Planger notching six. Kayden Kress tallied four goals. Damian Beswick had a goal and an assist. Maxwell Anderson had a goal and Tate Nakashima had an assist.
INITIATION: Taber initiation 1 Oil Kings beat Raymond 13-6.
Cruz Duell, Nathan Gensorek, Heston Hansen and Raiden Koizumi each had three goals apiece. Jackson Jones netted a single. In net was Jenner Workman, Kellon Schalk and Julian Woordman.