Celtics looking to make strides in New Year
Posted on December 22, 2015 by Taber Times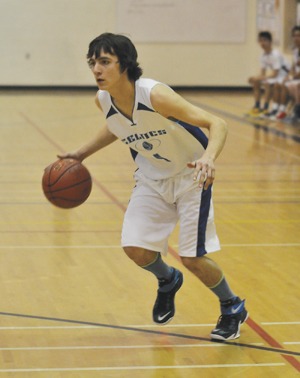 Times photo by Greg Price
By Greg Price
Taber Times
gprice@tabertimes.com
While already a few games in for the River Ridge Basketball League season, co-coach Ken Gabruck admits the St. Mary's Celtics boys basketball team is still very much a work in progress.
"Basically what we are looking at is a bunch of Grade 12s and a bunch of young Grade 10s, so there's a fairly good mixture of age groups," said Gabruck.
"It's going to be a struggle for awhile. It was the same situation from what I remember from years ago. When your volleyball team is successful and you go to the last day of November, then your first basketball practice is the Monday and your first game is the Wednesday, so it'll be a struggle for the first six weeks."
Gabruck returns to the basketball coaching ranks after a hiatus in retirement from St. Mary's and is getting to know his players.
"We have a lot to learn in the physical skill aspect along with the mental part as well. The mental part we need to work on a lot. Our compete level needs to get better," said Gabruck.
"We haven't been playing with a lot of intensity and right now we can't handle it if the other team comes with intensity and pressure. If they put pressure on us we can't get into any type of offence."
Case in point, after splitting their first two games of the season against Milk River and Foremost, the Celtics let a victory slip away against Bow Island on Dec. 14.
"Milk River is in a real rebuilding situation and we cruised through an easy victory in that one. Then Foremost came to town and they are a team that have a couple of really good players and other players that really know their role. They are intense and really hit the boards hard and we couldn't handle it," said Gabruck.
"Bow Island was a little disappointing. We had an 18-point lead and ended up losing by two. Up by 18, and then they picked it up a little bit and we didn't score after that. we were down by eight with a minute left and got it down to two and had a chance to tie it, but the mental toughness was not there on our last two shots. Hopefully, that will be a learning process going forward."
With a skilled Grade 10 player coming in for reinforcement and more practices in during the Christmas break, the team will be in tough when it returns to league action on Jan. 6 with a road game against Vauxhall Vikings at 8 p.m. The Celtics then have its invitational basketball tournament Jan. 15-16 before hosting Milk River in league play on Jan. 20 at 8 p.m.
"That's a difficult situation going to Vauxhall, they have the baseball academy with good athletes and they all play basketball from the school they came from, so we will be in tough," said Gabruck.