Rebels girls win home opener
Posted on December 16, 2015 by Taber Times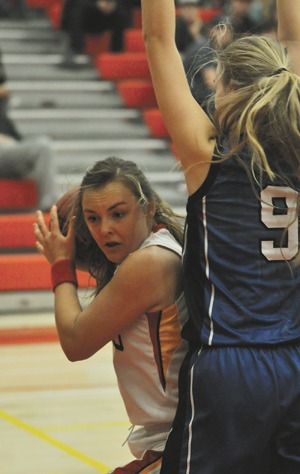 Times photo by Greg Price
By Greg Price
Taber Times
gprice@tabertimes.com
W.R. Myers Rebels varsity girls basketball team gave its fans something to cheer about in its home opener last Wednesday, as the squad won a tight 62-58 game against Catholic Central Cougars.
"It was a hard fought game for both teams with many lead changes. We finally pulled ahead by 10 in the fourth quarter, but Catholic Central never gave up and fought right until the end," said Kenney Wood, head coach of the W.R. Myers Rebels varsity girls basketball team. "It was a great win and an excellent way to start the season."
Hayley Lepard notched the double-double with 23 points and 17 rebounds. Genna Wright hauled in 16 rebounds. Millay Johnson poured in 18 points while grabbing eight rebounds.
The squad also participated in a tournament in Cardston where the team came away with the bronze medal in its third-place finish with a 34-31 win over St. Mary's.
"There was only a one-game break for this game so we were a little tired. The girls played hard though and wanted to get this win. They had to work for this win and they earned it," said Wood.
Wright had 16 points to go with 11 rebounds. Lepard hit for 14 points while hauling in the same number of rebounds.
The Rebels were pushed to the third-place game by the eventual tournament-winning Centennial squad in a 73-60 loss.
"They had a couple very good guards and also a couple very good forwards. This was Centennial's sixth game of their season and our third — you could tell the difference," said Wood. "We have only had five practices since choosing our team and we are still working on our systems. We are also missing a couple of players due to injury, one will be returning this week and the other hopefully in a couple of months. The girls played well and we were within three points with under two minutes to go, but just could not close the gap."
Johnson and Lepard both had 13 points and seven rebounds apiece. Natalie Hoyt was top scorer with 20 points.
Rebels began its tournament run with a 62-48 win over William Aberhart, racing out to a 22-point half-time lead to cruise to the win.
"We came out very hard and fast, and were able to build what turned into an insurmountable lead," said Wood. "We kind of sat back in the third quarter and didn't play very well, but we finished off the fourth quarter with more intensity and closed the game out."
Hoyt poured in 26 points and Lepard had 14 points and seven rebounds.
The Rebels traveled to Magrath to battle the Pandas on Tuesday in league play with results unavailable at press time. Today, the Rebels travel to Chinook to battle the Coyotes.