Novice Oil Kings win home tourney
Posted on December 16, 2015 by Taber Times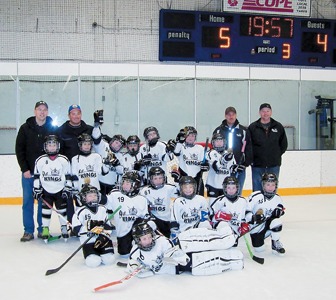 Times photo submitted
By Greg Price
Taber Times
gprice@tabertimes.com
Taber novice 1 Oil Kings hockey team went undefeated at its home tournament at the Taber Arena on the weekend to take the gold medal.
The team recorded a 7-5 win against Airdrie and an 11-6 win over Bow River which set the stage for a dramatic championship game. That championship game featured a 5-4 win over the Olds Grizzlies in a shoot-out. Both Chase Stronge and Nathan Planger scored in the shoot-out to get the win, with Zachary Fehr stopping all three shooters he faced.
Stronge was top novice 1 Oil Kings scorer in the tournament with eight goals and three assists. Planger had seven goals and three assists. Damian Beswick recorded two goals and three assists. Kayden Kress notched four goals and Brooke Friesen had two assists. Maxwell Anderson had a goal and an assist. Jaida Peters, Blake Rabusic, Evan Untereiner and Tanner Fletcher each had assists.
PEEWEE: Taber peewee Oil Kings are enjoying a seven game unbeaten streak which started with a gold medal win in a tournament in Fernie earlier this month.
The team earned victories over Idaho (4-3), Cranbrook (8-3), Bow Valley (9-0) and Fernie (6-2) in the process. Luke Turgeon earned three of the victories in goal and Talen Damberger tended goal for the other victory. Michael Stronge was leading scorer in the tournament for the Oil Kings with seven goals and five assists. Byron Kress had seven goals to go with three assists.
Carter Hendricks had two goals and six assists. Carson Komery recorded three goals and two assists. Brylan Span, Ty Fitch and Cooper Ross each had two goals apiece. Jack Murphy and Joey Fabbri had singles.
This past weekend saw the peewee Oil Kings go 2-0-1 with victories over RMAA (4-0) and Airdrie (10-4) to go with a tie with Innisfaill (3-3).
INITIATION Taber initiation 2 Oil Kings were in a tournament in Picture Butte and came away with a 2-1 record.
The first game was an 11-8 loss to Claresholm 2 Thunder. Nixen Miller had the hat trick and Lincoln Wiebe had two goals. Emmett Ruggles, Madix Miller and Ethan Volk had singles.
The team proceeded to beat Claresholm 1 Thunder 9-7. Nixen Miller and Wiebe both had hat tricks and Volk had two tallies. Dane Degraw scored a single.
The Oil Kings ended its tournament run with an 11-10 win over Coaldale Cobras. Nixen Miller and Wiebe all had hat tricks. Madix Miller and Degraw had two tallies and Ruggles had a single.
Taber initiation 1 Oil Kings also played in the tournament. Heston Hansen had the hat trick and Nathan Gensorek tallied twice. Raiden Koizumi scored a single.
The team then fell 17-5 to Okotoks. Cruz Duell had two goals Koizumi, Gensorek and Hansen had singles.
Taber initiation 1 Oil Kings ended its tournament with an 11-9 win over Picture Butte. Duell and Hansen each had hat tricks and Koizumi and Gensorek had two goals apiece.
Jenner Workman had a single.
The team started off with an 8-6 loss to Claresholm 1 Oil Kings.
ATOM: Taber atom 'A' Oil Kings splits its pair of games with the Coaldale Cobras on the weekend.
The first game on Friday night was a 6-5 Oil Kings win with Kahil Wright scoring the game winner with 1:20 left in the game. Connor Eldridge potted the hat trick and Kade Duell had a goal and an assist. Matthew Gensorek had a goal and Matteo Balsseti recorded an assist.
Saturday's tilt was a 7-5 loss to the Cobras. Gensorek had two goals and Duell had a goal and an assist. Walker Skiba and Balsseti also scored. Eldridge had two assists with Carter Jensen getting one helper.