Rebels girls have home opener tonight
Posted on December 9, 2015 by Taber Times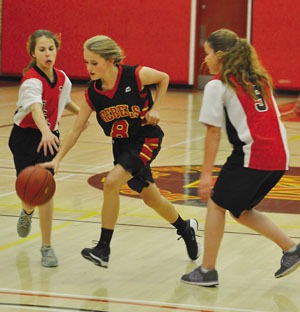 Times photo by Greg Price
By Greg Price
Taber Times
gprice@tabertimes.com
Last year, the W.R. Myers Rebels varsity girls basketball team started its season 18-0, won multiple tournaments including the 3A South Zone banner and were bronze medallists hosting provincials.
This year, the team has the potential to be just as good or even better according to head coach Kenney Wood.
While an 18-game winning streak is likely not to happen, the talent for a stronger finish at provincials is there.
"I think we will be as good, or better. We will be very similar. We did have a new person come in which was unexpected in Keegan Branter," said Wood of the athlete who plays hockey and is on the Canadian national team's radar for rugby.
An already talented team as the provincial bronze medalists who attest to last year, has Branter bringing the extra X-factor of needed size.
"She is five-foot-11 and that was a component we were missing last year. Some of the girls are excited they won't have to bang around with their taller opponents. We were undersized and doing quite well, but we'd have to use our speed and our basketball IQ and athleticism to compensate for someone else being two or three inches taller," said Wood. "Like I said, they did extremely well, but it's just kind of nice to have that extra. Doing another 18-0 (to start the season) will be tough to do because last year it was a perfect storm."
"We had a lot of close games that went our way where we had to earn all those wins. But in the big picture, what I'm looking at is all our starters are a year older and a year wiser and they have been through all this and they want to do it again and don't want to come up a game short in March."
There were plenty of positives that came out of the 2014-2015 hardcourt season for the W.R. Myers Rebels varsity girls basketball team. Huge win streaks, numerous tournament titles, huge offensive point games for some players, a south zone banner, a provincial bronze medal and league all-star selections. But Kenney added the team remains driven to aspire to even greater heights.
"They are really focused on what we did not accomplish last year. We did accomplish a lot of stuff and we hit every goal we wanted to hit except for one," said Wood. "We are gunning for a provincial championship. You usually wouldn't say anything short of that would be a disappointment, but in this case it will be. We will have to work hard and put it on the floor and compete just like we did last year, we just can't have a lull at the wrong time."
As the Rebels get ready to host its home opener today, there is that tough transition from volleyball of mere days with an athletic girls varsity team that made it to provincials late last month in Bonnyville. Half the W.R. Myers Rebels varsity girls basketball team roster played volleyball as well.
"People thought I didn't want the volleyball team to do well which was completely wrong. I wanted them to go as far as they could go, because you only get very few chances to go to provincials as an athlete in high school," said Wood. "They not only went there, but competed at the highest level and that helps you react in big situations which you can use in basketball."
The Rebels host the Catholic Central Cougars today with junior varsity at 6 p.m. with varsity to follow at 8 p.m. in what will be a whirlwind of games for the Rebels in December.
"We have nine games in 10 days with two tournaments and three league games," said Kenney. "The girls are super excited to get going and they know that we have really good potential for going to provincials."
The Rebels with be competing in tournaments in Cardston and Coaldale in December. League games include road against Magrath and Chinook on Dec. 15 and Dec. 16 respectively.