Novice Oil Kings win silver at Picture Butte tourney
Posted on November 25, 2015 by Taber Times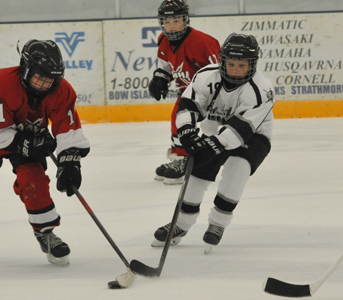 Times photo by Nikki Jamieson
By Greg Price
Taber Times
gprice@tabertimes.com
Taber novice 1 Oil Kings earned the silver medal at a hockey tournament in Picture Butte over the weekend.
The gold medal game against the Medicine Hat Penguins was decided in thrilling fashion as after the game was tied 11-11, it went to a shoot-out where it went eight players deep before a winner was decided thanks to the efforts of goaltender Zachary Fehr.
The tournament saw Chase Stronge score 11 goals and six assists. Damian Beswick potted eight goals and one assist. Nathan Planger's tournament run featured eight goals as well. Kayden Kress had five goals and Maxwell Anderson had four goals. Ayden Umbach had two goals and two assists. Evan Untereiner had three helpers and Tate Nakashima two. Roman Capner and Brooke Friesen each drew one assist.
Taber novice 2 Oil Kings were also on the ice, and skated to an 11-4 victory over Irvine Bulldogs on Saturday at the Taber Arena.
Tage Jensen had four goals and Langdyn Cummins had two goals. Rex Bell, Konnor Wiebe, Ryler Kiss, Tyson Church and Sam Tolsma had singles.
PEEWEE: After a two-week layoff, Taber peewee Oil Kings proved to be quite rusty in an 8-3 loss to High Country Rockies at home on Sunday.
Joey Fabbri, Michael Stronge and Cooper Ross all had goals. Brylan Span, Carter Hendricks and Jack Murphy drew assists.
ATOM: Taber atom 'B' Oil Kings split its two games on the weekend.
The first was a 7-5 loss to Cardston on Saturday on the road.
Ashton Lukacs tallied twice and Jayden Holland, Vance Kramer and Carson Love all had singles. Kramer also drew an assist along with Tristen Egeland-Cusker and Evan Rabusic.
The team bounced back with a 4-3 win over Crowsnest Pass at home on Sunday.
Lukacs notched the hat trick and Hayden Span had a goal and an assist. Also drawing assists were Rabusic and Holland.
Taber atom 'A' Oil Kings lost 9-7 to Airdrie on Saturday.
Scoring for Taber was Kade Duell with the hat trick. Walker Skiba, Heath Hansen, Connor Eldridge and Kyler Marchuk each had singles.
Connor Eldridge had two assists and Kade Duell and Kyler Marchuk each had single assists.
INITIATION: Taber initiation 2 Oil Kings dropped an 11-10 decision to Raymond at the Taber Arena on Saturday on the small ice.
Madix Miller, Nixen Miller and Lincoln Wiebe all had hat tricks for Taber. James Ruggles notched a single. Wiebe also drew two assists.
Taber initiation 1 Oil Kings beat Coaldale Cobras 17-6 on Sunday.
Scoring for Taber were Heston Hansen, Raiden Koizumi, Cruz Duell, Nathan Gensorek all with hat tricks. Kellon Schalk had two goals. Mikaelah Clingman, Eastynn Pidborochynski, and Julian Woordman each had singles.