Auroras fall at 2A zone semifinals
Posted on November 25, 2015 by Taber Times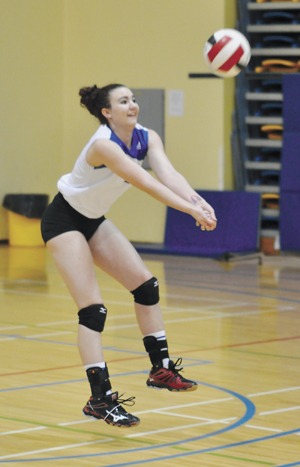 TIMES FILE PHOTO
By Greg Price
Taber Times
gprice@tabertimes.com
St. Mary's Auroras girls volleyball team's season ended earlier this month at 2A South Zone competition at Lethbridge College.
"We wanted to make it to provincials obviously, but we finished fourth at zones, so we stayed where we were ranked," said Cassie Mucciarone, head coach of the St. Mary's Auroras girls volleyball team. "In the light of everything, that is a positive. In a big tournament like zones, it's easy for teams to get super nervous and not win a lot of games where other teams show up to play. I was really proud that we were able to maintain the number we were ranked at without going backwards, that was huge."
Out of the zone tournament, Vauxhall was the only team the Auroras were unable to beat all season long as the Vauxhall Queens would end up winning the 2A girls South Zone banner as Vauxhall prepares to host 2A girls volleyball provincials this week.
"They truthfully have a very good chance to go on and win provincials. Mentally they are very strong and they are disciplined," said Mucciarone. "There is not a lot of panic that strikes them and they have the experience of being in those super-tight matches."
The Auroras rallied back against Raymond Comets in the zone quarterfinal before losing to eventual silver medalist F.P. Walshe in a 2A South Zone girls semifinal.
"I think nerves go to us. We started to settle in, but then F.P. Walshe changed up their offence a little bit which we weren't used to seeing and it caught us off guard," said Mucciarone, adding the only team the Auroras lost to in round-robin play was Vauxhall to secure second place in its pool.
The Auroras graduate five seniors from its program heading into 2016.
"Overall I'd say the season was a success. The girls played super well in league holding their own and we won back-to-back tournaments," said Mucciarone. "Overall, the girls grew so much both individually and as a team which is what you want at the end of the season."