Celtics battle back for volleyball banner win
Posted on November 18, 2015 by Taber Times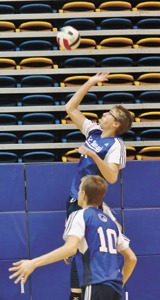 TIMES FILE PHOTO
Greg Price
Taber Times
gprice@tabertimes.com
St. Mary's Celtics boys volleyball team will be going into 2A provincials with plenty of momentum as the squad earned the 2A South Zone banner on the weekend at Lethbridge College.
"It was harder than I thought it was going to be," said Derry Kolody, head coach of the St. Mary's Celtics boys volleyball team, citing a pesky Kate Andrews Pride that would not go away quietly into the night both times the Celtics played them.
The Celtics needed three sets to beat the Pride in round-robin play and squared off against them again in the zone semifinal.
"We sort of came out scared, afraid to make mistakes and played tentative. The whopped us the first set, but we won the next two," said Kolody. "It wasn't addressed by the coaches and I think the players put pressure on themselves as a win would guarantee a trip to provincials, we didn't even need to win the banner to go to provincials. We just had to win that semi. Whether they wanted to tell you that or not, I think they put some extra pressure on themselves. You play it safe and you don't put it out there, we made all types of hitting errors and serving errors (the first set)."
The Celtics zoomed out to a 10-0 lead in the first set of the championship final against Immanuel Christian, but had to hold on to win 25-22. The Celtics dropped the second set, but then clinched the zone banner with a third-set win.
"My big guy Lucas Dykstra caught on fire in the final set in both the semifinal and the final. He was the reason why we got by Kate Andrews," said Kolody. "Our passing stepped up, along with some timely digs to set up the attack where Dykstra caught fire. He was cutting the ball hard and playing with a lot of energy. We rode on his back a bit."
The Celtics will now prepare for a week's practice in anticipation of 2A boys volleyball provincials in Okotoks on the Nov. 27 weekend