Mills newest member on recreation board
Posted on November 13, 2015 by Taber Times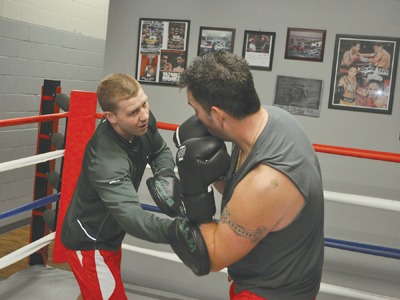 Times file photo by Greg Price
By Nikki Jamieson
Taber Times
njamieson@tabertimes.com
Former pro boxer Joel Mills, has been recently appointed to serve a three-year term on Taber's Recreation Board.
"I've been involved in athletics, amateur and professionally, for my whole life, so it's really the only thing I've ever done," said Mills. "And now, as a business owner and professional trainer, I think that I'd be able to offer my two cents on some of the business practices behind amateur sports."
"I felt that I could offer my guidance and my opinion."
Mills had been encouraged to apply for the board position by patrons at his gym, due to his involvement in the Taber sport scene.
"I've ad a few people, say that they felt that it would be a good fit for me. I really wasn't thinking about it myself, but a few members at the gym, and (others) like that said they think I'll be a good fit there, and I thought it would give me an opportunity to help out with the town and to volunteer my time and give back," said Mills. "So I thought, this is a good opportunity, so I just went for it."
After putting his name in, he waited for a call from the town. Then, during the Sept. 14, regular Town of Taber council meeting, Coun. Joe Strojwas moved that council should appointed Mills to the recreation board, and that motion was carried unanimously.
"For me, 'cause I have been involved with sporting and recreation in Taber my whole life, we've always run a pretty top-notch sporting and recreation program. So, really, I'm just here to support what we've been doing for three years now, because in my opinion, we've a great job, and just going to keep my eyes open to see what we can do better."
Once on the board, Mills will take part in advising the town council on matters concerning the development, coordination and quality of parks and recreation activities within the town limits. He will also take part in acting as the go-between for the town council and local recreation organizations and listen to concerns from those organizations and private citizens on matters of recreation, and present those concerns to council.
This will be the first time that Mills will be serving on the board, or anything like the board. Admittedly an amateur, he plans on keeping quiet for a little while as he learns the ropes.
"I feel like it's going to be a pretty deep learning curve for me. I also feel like I'll do most of my learning with my ears open and mouth shut, for a little while, and get a feel for it. I think it'll be a different experience, but it'll be a good introduction for me and to do some volunteer work for the town," said Mills. "My ultimate goal is to make this town better and help out."
Despite "going in pretty green", once he gets comfortable in his new position, he will be advocating for keeping up improvements to Taber's amateur sports, and streamlining the processes involved.
"I'm going to play it by ear, and voice my opinion when it's needed."
Mills will officially joined the board on the Nov. 5 Taber Recreation Boar dmeeting where he was sworn in by Taber Mayor Henk DeVlieger. He will serve on the board until Dec. 31, 2018. The appointment also will mark a big chance for him to give back to the town.
"This town has been amazing to me. Anything I can do to give back is good in my books. And I'm always looking for new ways and better ways I can help Taber out, so hopefully, this is just the beginning of more opportunities and doors opening to help out."