Initiation teams play each other on small ice
Posted on November 13, 2015 by Taber Times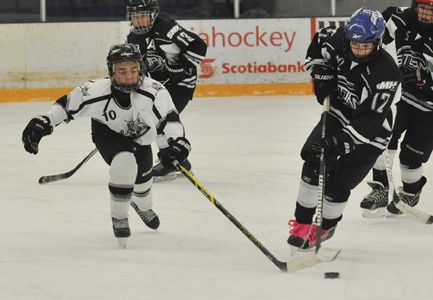 Times photo by Nikki Jamieson
By Greg Price
Taber Times
gprice@tabertimes.com
Taber Initiation 1 Oil Kings won against Taber Initiation 2 Oil Kings, 12-8 on Saturday morning.
Scoring for Initiation 1 was Cruz Duell, Raiden Koizumi and Heston Hansen, all with hat tricks. Jenner Workman had two goals and Nathan Gensorek had a single.
Replying for Initiation 2 Oil Kings were Madix Miller with four goals and Nixen Miller tallied twice. Lincoln Wiebe and Dane Degraw had singles.
NOVICE: Taber Novice 1 Oil Kings won both of its games on the weekend, propelling itself to the top of the Spud League standings after the first round.
The end of the win streak was an 11-8 victory over Picture Butte at the Taber Arena on Sunday.
Nathan Planger had four goals and Chase Stronge had the hat trick. Kayden Kress and Damian Beskwick had singles.
Taber Novice 2 Oil Kings dropped an 8-5 decision to Raymond 2 on Saturday at the Taber Arena.
Lincoln Weiss had two goals and an assist. Langdyn Cummins, Tage Jensen and Ryan Grey each had a goal and an assist.
ATOM: Taber Atom 'A' Oil Kings played Lethbridge Tier III on Saturday and lost 8-2.
Scoring for Taber was Matthew Gensorek and Callie McCulloch. Connor Eldridge and Walker Skiba each had assists.
On Sunday, the Atom 'A' Oil Kings played Lethbridge Tier IV and won 11-10.
Scoring for Taber was Kade Duell and Eldridge with hat tricks, Heath Hansen had two goals and Skiba, Connor Chapman and Matthew Gensorek each had singles. Eldridge had four assists, Hansen, Matteo Blasseti and McCulloch each had two assists, Gensorek, Chapman and Skiba each had single assists.
Kahil Wright had the win in net.
PEEWEE: Taber Peewee Oil Kings earned a 5-3 win over Strathmore on Saturday.
Michael Stonge had two goals and two assists. Ryden Mehlhaff, Byron Kress and Carson Komery each had singles. Brylan Span had two assists and Ty Fitch, Jack Murphy and Carter Hendricks had single helpers.