Festival wins provincial award
Posted on November 13, 2015 by Taber Times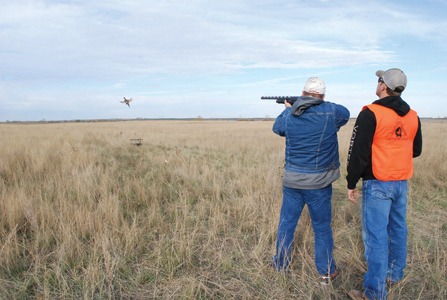 TIMES FILE PHOTO
By J.W. Schnarr
Southern Alberta Newspapers – Lethbridge
A local hunting festival has been recognized for sustainable tourism efforts.
The Taber Pheasant Festival was handed an Alto Award for Outstanding Sustainable Tourism Award at the 15th Annual Travel Alberta Industry Conference in Banff on Oct. 26.
Tom Machacek is a Municipal District of Taber councillor and chair of the committee that heads up the festival, and said the festival was a big success this year with more than 700 hunters taking in the event. He added the award was a welcome surprise.
"We were quite humbled to be honoured by Tourism Alberta," he said. "And we were shocked. We've just been doing our thing. It's quite nice to be recognized for the hard work and effort that the volunteers put into the event."
Dr. Todd Zimmerling is president and CEO of the Alberta Conservation Association, and said the win marks changing attitudes toward hunting.
"From my perspective, this win really is the first time I'm aware of that hunting, the economic benefits of hunting, and the tourism benefits of hunting have really been recognized in Alberta. And I think it really does speak towards a shift in social attitudes toward hunting."
"People in the city are talking about getting free range food, and knowing where their food comes from," he added. "In rural communities, people do that all the time."
Zimmerling said he is surprised at the popularity and growth of the event since it began five years ago.
"I was surprised at how quickly it has become as big as it is," he said. "And I was pleasantly surprised with how much support we got locally."
M.D. of Taber Reeve Brian Brewin said the festival is a big fall event to the area that brings a lot of benefits to M.D. of Taber residents.
"It's a real positive thing, not only for the Town of Taber, but I think it's one that's truly regional," he said.
Brewin said the M.D. of Taber is the perfect place for this kind of event due to the local habitat.
"As you drive around the M.D., there's lots of good habitat for pheasants. And there are a lot of residents who take the time to make sure it (remains that way)."
"Any time you bring in more than 700 people to a community for a week, the community has a direct benefit," Machacek said. "We provide an opportunity to showcase our community to this group of hunters and outdoorsmen. We're hoping when the festival is done, they choose to come back and and take part in more hunting in the area."
Festival organizers also pair up with local 4-H clubs with a program designed to help local pheasant population efforts. The clubs raise pheasant hens which are then auctioned off to be released in an appropriate place.
"We get to highlight our youth in the community as well, Machacek said. "It's a win-win process."
Zimmerling said the raise and release program does a good job of improving bird populations throughout southern Alberta.
"Those are the birds we think will have a beneficial impact on the longterm population numbers in and around the area," he said.
Another key aspect for the success of the event is landowner participation.
"That was one of the things that a lot of people had sort of cautioned me on that it wouldn't work because we wouldn't find enough landowners to do it," said Zimmerling.
"As it turns out, that hasn't been the case at all. We've been overwhelmed with landowners who are quite willing to work with us and quite willing to allow people to go on their land to hunt."
Zimmerling said the hunt also indirectly benefits conservation efforts by providing an economic incentive for people to practice good stewardship and ensure the hunts continue. He said because of this, many landowners have approached the ACA asking how they can improve the habitat to improve bird populations.
"It's been more of an awareness campaign than anything," he said.
For more information on the Taber Pheasant Festival, please visit the ACA website at ab-conservation.com.