Pennies for Ks campaign continues
Posted on November 4, 2015 by Taber Times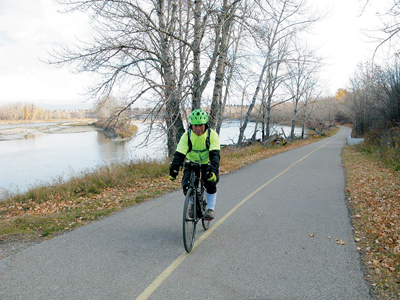 Times photo submitted
By Greg Price
Taber Times
gprice@tabertimes.com
With the help of Mother Nature and the strong continued belief in his cause, Vauxhall Academy of Baseball philanthropist Yukio Kitagawa is ahead of schedule with his Pennies for Ks campaign.
On March 20, Kitagawa broke the 10,000-kilometre barrier on the way to his goal to cycle 100,000 kilometres in the next ten years, over the combined 829 kilometres of pathways and street bike routes in Calgary, on the range roads when in Vauxhall, and the groomed cross-country ski trails in Kananaskis country. His first kilometre for the fundraising campaign started on Sept. 1, 2014. As of Oct. 21, you can tack on another 15,000 kilometres as Yukio broke the 25,000 mark.
"My next goal is 33,333 (kilometres)," said the 79-year-old Kitagawa with a chuckle from his Calgary home in a phone interview with The Times.
If Yukio can keep up this pace, he will have achieved his goal around the 5 1/2 year mark which he set out a 10-year time frame for. He attributes relatively mild fall/winters and gorgeous springs in this past year and also the help of Lorne McLash.
"He has been a defacto coach for me and lays it out for me and helps me get the most high performance bikes to do this. My relationship with Lonnie is kind of like a caddie, he helps me in every which way. I get out early and I'm out for four hours at least each day which is what I strive for. When winter comes knocking, I will naturally be knocking down the hours," said Kitagawa, adding the model of bike he is currently riding featured a third-place finish at the Tour de France. "And I have to give credit to my wife Barbara who has kept me motivated in my riding. She supports me in every which way. If she wasn't keen on it, it would be pretty difficult for me to do."
Kitagawa has not missed a day of cycling since he took his pledge for the Pennies for Ks campaign back on Sept. 1, 2014. Yukio hopes to pedal his symbolic 100,000th kilometre in front of Jets Stadium as he continues his support of the baseball academy.
Each year, a seven-month segment will be devoted to fundraising for Jets baseball, coinciding with the academy season, beginning on Sept. 1 and concluding March 31. The goal in the fundraising segment is to cycle a minimum of 5,000 kilometres and raise $10,000. Yukio's wife Barbara accompanies him on some of the rides and has offered to match each of the pledges in the Pennies for K's campaign.
As weather or health has worsened, Yukio admits not as many kilometres are trekked on his bike. Nevertheless, the diminutive man with a big heart still managed to bike 10 kilometres on the day he did the interview with The Advance, despite battling the flu.
"Now that I have a year under my belt, Barbara has kept some incredibly good information and I am an analytics guy," said Kitagawa. "I look at these things, see where I am at and look at things I can benefit from."
Kitagawa continues weight training, but does so now every third day as opposed to second day. Weight training has been a habit for Yukio for over 60 years, as he also continues to do balance exercises, and to incorporate some yoga maneuvers to maintain flexibility.
"It is very important to do that, because I have to retain muscle mass, otherwise you are in deep trouble," said Kitagawa. "You either wear out or you rust out."
Given Yukio's drive for his Pennies for Ks campaign, it doesn't look like he is going to rust out anytime soon.
Those who would like to donate to Pennies for K's can do so by receiving a copy of the pledge form by contacting Lynda Unruh at 403-654-2145 or by e-mail at lynda.unruh@horizon.ab.ca.