Taber part of Curling Across the Nation
Posted on October 28, 2015 by Taber Times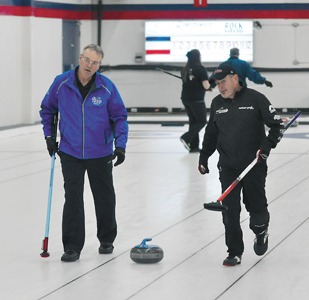 TIMES FILE PHOTO
By Greg Price
Taber Times
gprice@tabertimes.com
Rob Swan is a man on a mission.
That mission, which he has chosen to accept, is to give a face lift to his beloved curling facility. Coming from a small rural community in New Brunswick called Harvey Station, the community has been lucky enough to manage a two-sheet curling club since 1961. But Swan's curling club is facing the same plight as many across Canada, one that has been neglected for far too long as interest continues to wane for the sport in many areas across Canada.
So Swan has spearheaded a Curling Across the Nation initiative.
"My club has never had any major renovations since its construction and now, like a lot of curling facilities across Canada, we desperately need them. I tried to think of ways that I could help my club raise money to start the renovations. I'll never be good enough for the grand slam of curling, I'm not rich enough to pay for the renovations, so I hit the road in an effort to raise the plight of my curling club everywhere I visit," said Swan. "Quickly after starting this, I realized that curling needs a boost. I found that some communities have curling facilities, but some people are just not aware of them. Some curling facilities membership has gone up, down, up, down and now is the time for some members to come back to curling and lend a hand to their local curling facility however they feel fit to do so."
Last curling season, Swan curled one game in 103 different clubs across Canada. Swan is aiming for 125-plus clubs this year to continue to raise money for his curling club's renovations and raise awareness about the sport of curling at the same time.
"I started my second year on July 4 in California. It would surprise you the number of curling clubs I've been invited to," said Swan. "I've been invited to Texas, Massachusetts, New York, Boston, Scotland, and Ukraine. I'm attempting to do every curling club in Scotland, England and Wales in three weeks next year."
There has not been one missed curling season Harvey Station since the club's inception in 1961, but maintenance for the club is way overdue.
"Our club has been around since 1961 and it has never gone under any major renovations. And like many curling facilities across this country, that is kicking them in the ass right now," said Swan. "The upkeep was never done and it's coming back to haunt a lot of clubs in this country."
Swan curled as a kid and go into it competitively in provincials. When Swan lived in Alberta, he continued to curl competitively, but left the game altogether until recently.
"When I started this Curling Across the Nation, I had to buy new gear because I couldn't find my old curling gear. When I stepped out on the ice last October in Winnipeg, the was the first time I threw a rock in six years," said Swan. "I think the passion is there even more now. When I grew up, I was always under the impression curling was born in Scotland and raised in Canada. But from what I see now, it is our bastard child that has been kicked around that is just expected to be there. There are some really fine curling clubs in this country, but there are curling clubs that are in desperate need of help."
The Taber Curling Club last Wednesday featured Game 14 of Swan's current curling club tour.
"It is a really nice club. I was surprised because Taber isn't the largest of cities," said Swan, adding it would be nice to see the club be wheelchair accessible.
In the 2018 Olympics there were will four different curling event sup for grabs with medals according to Swan.
"Up until the last Olympics, I think people thought it was an older person's sport. It was something people said their parents did," said Swan. "But with Canada winning both men and women's gold, it showed it wasn't your stereotypical curlers. These men and women were prime-time athletes curling."
Swan encourages curling clubs across the nation to take a proactive approach in promoting its sport out into their respective communities.
"I know some clubs will hit their community fairs and put up a booth or a float in the parade type of thing. One thing that struck me exceptionally well in Taber was there were signs out," said Swan. "Out on your main drag, there's one that says Taber Curling Club this way and then there's a curling rock pointing towards where the club is. I give you kudos on that because with over 100 curling clubs I went to last year, I might have seen that in three clubs."
In promoting life-long health, Swan added curling is the perfect sport that someone can do throughout their lifetime from nearly cradle to the grave.
"For me, there is no other sport in Canadian society that covers so many aspects of Canadian society. Where I curled in Winnipeg, there was someone who was 96 year sold and curling," said Swan. "You don't see that in soccer, you don't see that in hockey, you don't see that in baseball or swimming. You don't see that in any other sport than curling. For me, it's stupid that municipal and provincial governments do not tie that into fitness and recreation for all ages. If you want to bring down healthcare costs, you have to get people more active. For that to happen, you get them into a sport early in school and you are keeping them in that sport all their life and they'll end up in better shape than what a lot of people are right now."
Swan curled in Medicine Hat on Oct. 23 and is tentatively set to curl in Lethbridge on Halloween night, then venturing off to southern British Columbia.
"I will be heading off to Quebec and then the Maritimes in November," said Swan.
If you would like to donate to Swan's cause or learn more about it, you can take a look at his social media sites at http://www.curlingacrossthenation.com and http://www.facebook.com/curlingacrossthenation. Swan has Twitter as well at @curlthenation.
"A thing I have changed for this year is, I have a designed T-shirt I am selling out on the road. Just like the band who goes out on the road and sells their own stuff, I'm selling the T-shirts to finance my trip."