Auroras battle Queens tough in tourney semifinals
Posted on October 21, 2015 by Taber Times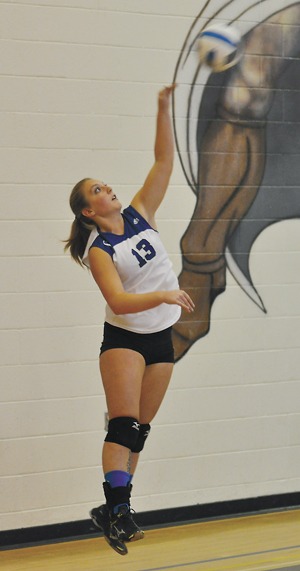 TIMES FILE PHOTO
By Greg Price
Taber Times
gprice@tabertimes.com
St. Mary's Auroras bowed out of the semifinals of its home Double Blue Volleyball Tournament over the weekend.
It was a competitive match in the semifinal to rival Vauxhall Queens as the Auroras broke into the 20s in each set they lost.
"Vauxhall played really good where their defence was awesome. But, we were right there with them all in all," said Cassie Mucciarone, head coach of the St. Mary's Auroras varsity girls volleyball team. "They just played a few balls smarter than we did. But, I was proud of the girls because we talked about how we wanted to play Vauxhall for zones. That's our main focus, performing well at zones and earning that spot at provincials. It may not have been the result we wanted to have losing in the semis, but you use that for motivation for how you don't want to have that same feeling. I think too, with this being the girl's tournament, there were some nerves in there a little bit, they want to do well."
The Auroras earned first in its pool with a round-robin set record of 7-1.
"That was one of our goals in the tournament was to win our pool which we did," said Mucciarone. "The girls were very focused in pool play. They served harder and smarter. We were playing keep away from certain players, recognizing serving shorter, serving deeper, and I saw a lot of consistency in that which was huge. We talked a lot to about when we are up on a team we have to stay up on a team. It's a skill you have to learn not to let up, we were able to do that and I was super impressed."
Auroras have a busy week of Southern Alberta Girls Volleyball League action coming up. The team traveled to Cardston yesterday with results unavailable at press time.
The Auroras host Magrath Pandas on Thursday. Junior varsity starts at 6 p.m. with varsity to follow. The Auroras end its regular season next Wednesday against Kate Andrews.
The Auroras travel to Vulcan on the Halloween weekend to play in the Monster Smash Tournament.