Pheasant Festival starts on Saturday
Posted on October 14, 2015 by Taber Times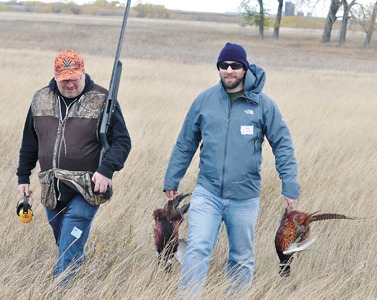 TIMES FILE PHOTO
By Greg Price
Taber Times
gprice@tabertimes.com
Those hunting for a good time will have to look no further than the Fifth Annual Taber Pheasant Festival which starts this Saturday and goes until Oct. 24.
"This is a huge event not only for local hunters, but hunters in the province," said festival co-organizer and M.D. of Taber councillor Tom Machacek. "About a third of the people who buy pheasant licenses in the province come to the pheasant festival. That says quite a bit with how many people come down to the Taber area for the week."
Just how popular the event is as it enters its fifth year, you have to look no further than how fast it fills up for the coveted event.
"They used to have a lottery system where you called in and first ones in got the place. They changed that a little bit where it would fill up in three minutes, but then there was a lot of work they had to do afterwards," said Machacek. "They went to a little slower system now, but it still fills up in 15-20 minutes."
There are 700 pheasant enthusiasts, that descend on the Town of Taber/M.D. of Taber to hunt the 5,000 pheasants which are released, having been shipped in from Michigan.
"I personally do not see this from an M.D. perspective, I see it from a community perspective. A lot of people who hunt are agriculture based, but a lot of them aren't. They spend a few days in Taber and area, do hunting and sporting activities and support the restaurants and hotels," said Machacek.
There is a novice hunt for youth on Saturday, with Monday (Oct. 19) featuring a culinary event at the Heritage Inn where there will be a pheasant butchering and cooking demonstration. A scotch tasting will be featured at the Heritage Inn on the Wednesday of the pheasant festival (Oct. 21). Taber Community Centre will have a celebration dinner on Thursday, Oct. 22.
The festival is a joint effort between Alberta Conservation Association, Alberta Hunter Education Instructors' Association, local Alberta Fish and Game Association clubs, MD of Taber, Town of Taber, Taber Heritage Inn, Pheasants Forever Calgary, Taber and District Chamber of Commerce, as well as many local businesses and individuals.
"There are 40 sites and they are all within the M.D. of Taber," said Machacek of the areas of the hunt that have to be kept secret for as long as possible, so that the hunters who are registered for the festival get to enjoy the spoils. "When the hunters go in to register the day of or the day before, they are given a map."
A dedicated volunteer base keeps the pheasant festival going every year, as the festival continues to grow in prominence among hunting enthusiasts.
"It is only going to keep expanding from here on. As far as the community goes, I think it can go even further," said Machacek. "But there is that realization that the hunting population looks like it is stagnating now. This festival is a way for that outdoor activity to flourish here and in the province."