Bantam Rebels edge Bulldogs
Posted on October 14, 2015 by Taber Times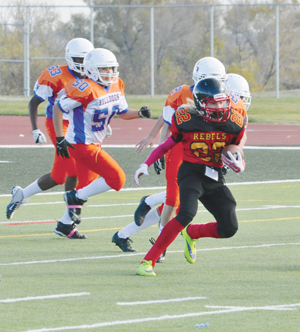 Times photo by Greg Price
By Greg Price
Taber Times
gprice@tabertimes.com
For three straight years the Taber bantam Rebels football team and the Lethbridge Bulldogs have had tight tilts.
Saturday's contest proved no different in a 14-7 Rebels win to push the team's record to 4-1 as the squad heads down the home stretch to playoffs.
"It's an unbelievable battle every time we play these guys. We have great respect for their players who come out hard to play every time," said Garrett Simmons, head coach of the Taber bantam Rebels football team. "We knew coming into this game that they were going to battle right to the end and ultimately that's what happened. It came down to a defensive stand in the last series of the game and we held."
All three facets of the Rebels' game were on display as the offence fed off the defence who stood tall over what could have been a disastrous turnover deep in the Rebels end that could have given the Bulldogs the early lead.
"We had a 25-yard fumble that bounced back to the one-yard line. We made a series of mistakes on that play (a reverse). For us to stop them three plays in a row on the one-yard line was just incredible, that turned the game around. Tyler Szigli, Johnny Tams and Brett Andrus all made big stops. To go down 7-0 that early on a fumble would have been deflating."
Different players came up big and critical times defensively with Andrus stopping a first down attempt on a fake punt and Kadin Reynolds playing picture perfect defence from his linebacker position, swatting away a pass attempt in the endzone.
Special teams were also featured as Tristyn Kozak caused a fumble defending a punt rerun.
Speaking of punting, Levi Tams showcased his leg as one of the best Southern Alberta Minor Football Association punters in the league, helping the chess game of field position, booming the ball deep out of the Rebels' end.
"It helps the defence out so much when you can help with field position and Levi is always an asset. He also gave us those two extra points which can always be huge by the end of the game," said Simmons.
The offence was paced by the ground-and-pound game of Johnny Tams and Chance Cook, while Andrus was able to gain the edge with his speed for both Rebels' touchdowns.
"Their entire defence was designed to contain our outside speed and they did a good job on that for the most part. But, we were able to get in a few big misdirection plays that went for big yards," said Simmons. "One of Andrus's runs was a 73-yard touchdown run. Brett made some really big explosive plays on offence."
Another big play that was called back was a 101-yard TD pass from Mike Sawatzky to Andrus that was called back as an illegal forward pass.
"We looked at the tape and he was two to three yards behind the line of scrimmage. That could of deflated us as well because it went from having a three-touchdown lead to having to punt from our own endzone. Thankfully, Levi boomed a punt and got us out of that jam," said Simmons.
Simmons admitted the game was not clean on both sides and if both teams end up facing each other once again in the playoffs, it may come down to who makes fewer mistakes.
"There are lots of things probably both teams want to clean up," said Simmons.
The Rebels travel to Coaldale on Saturday at noon for the team's last game of the regular season before playoffs. Currently sitting at 4-1, the Rebels are in first in the SAMFA 'B' division.