Peewee Golden Suns take two games
Posted on October 7, 2015 by Taber Times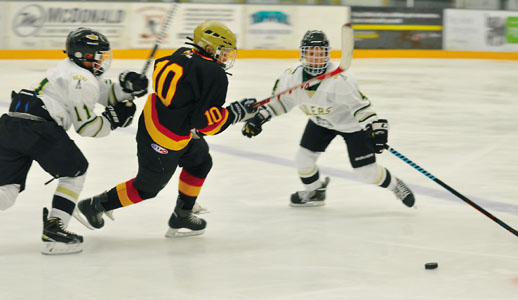 Times photo by Greg Price
By Greg Price
Taber Times
gprice@tabertimes.com
Taber peewee "AA" Golden Suns took two games against Okotoks Oilers on the weekend in early going of the 2015-2016 South Central Alberta Hockey League season.
Saturday's tilt was a 6-4 win on the road. Wyatt Broderson tallied twice for the Suns, and Braeden Sheppard, Nolan Price, Colby Garner and Carson Haynes notched singles. Haynes and Price also drew two assists with Broderson, Sheppard, Sebastian Liska, Carter Deboer, Rylen Roersma and Gerret Harty getting single helpers.
Scout Sidam faced 29 shots on net for the win in goal.
Taber peewee "AA" Golden Suns returned to the Taber Arena on Sunday afternoon and raced away with a 13-5 win over a dominating six-goal third period to seal the win. Golden Suns had a field day on special teams, notching five power-play goals and another shorthanded.
Roersma had four goals in the offensive onslaught with Broderson, Deboer, and Dylan Granson with two goals apiece. Price, Kaden Walburger and Garner all had singles. Haynes and Harty each drew four assists.
Breden Olson faced 32 shots on goal for the win.
It is a whole mix of different experience levels on the peewee Golden Suns this year with four returning players, five second-year pewee new to "AA" and the rest are first-year peewees according to head coach Cam Cleland.
"We are setting .500 as our goal and try to stick at the middle of the pack as close as we can," said Cleland of the youngish team this year. "We want to keep it realistic, but in that, we have played some tough teams in exhibition early and we have done well. Early on, we are having some of those green issues with kids learning the competitive game for the first time and getting up to speed.
For those first-year peewee players who are making the transition from atom, that means taking care of both ends of the ice.
"We had some leads on the tough teams in exhibition and kind of gave up leads. We are trying to put together three periods instead of two. We seem to be able to play any given two good periods out of three in a game," said Cleland. "We are now three games into our regular season and we are 2-1. We are preaching the defensive side of the puck. We will try and concentrate on trying to keep the puck out of our own net and preach at the same time that we let our offence be created off our defence. Coming out of atom hockey especially, everybody is out there gunning to score goals, and you need to score, but the key part we are trying to start with is really take care of the defensive side of the puck and create that sound structure."
Taber peewee "AA" Golden Suns are off to a tournament in Red Deer this weekend.
BANTAM: Taber bantam "AA" Golden Suns earned a big 8-2 win over Foothills Bisons on the road in South Central Alberta Hockey League play.
James Halverson had a huge game, sniping four goals, while Kole Fujita, Mason Sande, Blake Kondor and Grady Honess had singles. Kolby James and Tristan Miller each drew two assists and Sande, Kondor, Seth McCulloch, Sydney Hughson and Darian Virostek each had single helpers.
Owen Meyer had a quiet game in net for the Golden Suns, facing a mere 13 shots on goals for the win.
Taber bantam "AA" Golden Suns host Wheatland Warriors on Friday at 8:30 p.m. at the Taber Arena. The team also hosts West Central Tigers on Saturday at 3 p.m. at the Taber Arena.
MIDGET: Taber midget "AA" Golden Suns split its first two games to begin its South Central Alberta Hockey League season.
Friday's game was an 11-3 win over Lethbridge Hurricanes in the Suns' home opener at the Taber Arena.
Logan Middleton had four goals and Brock Palmer netted the hat trick. Brandon Langridge had two tallies and Logan Wiebe and Hunter Johnson had singles. Broc Merkl faced 44 shots on net to preserve the win in goal.
The team proceeded to drop a 10-2 decision to Okotoks Green on Saturday on the road.
Taber midget "AA" Golden Suns travel to Cranbrook on Friday to battle the Knights and then return home on Saturday to play the NWCAA Stamps at 5:30 p.m. at the Taber Arena.