Bantam Rebels continue to roll on gridiron
Posted on October 7, 2015 by Taber Times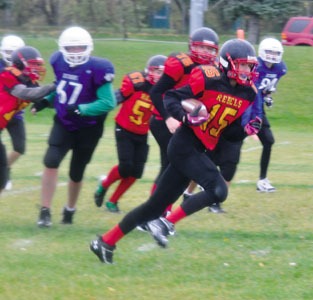 Times photo by Greg Price
The Taber bantam Rebels improved to 3-1 in the season with a Saturday win during Football Day in Taber.
Taber's explosive offence was on full display again in a 34-0 win over the Lethbridge Cougars, to move into first place in Division B in the Southern Alberta Minor Football Association.
The Rebels opened the scoring in the first quarter on a 19-yard passing play, as quarterback Mike Sawatzky connected with Corny Froese. Taber made it 14-0 on the first play of the second quarter, as Brett Andrus scored on an 86-yard touchdown run.
Chance Cook got in on the scoring with a 17-yard touchdown run, right before Sawatzky added a touchdown of his own on a 35-yard run. Kadin Reynolds rounded out the scoring, as he hauled in a Sawatzky pass and took it 59 yards for a touchdown. Levi Tams connected on four extra points.
"Offensively, we really took advantage of our opportunities," said Rebels head coach Garrett Simmons. "Our playmakers really showed off their explosiveness."
Battling the cold, wet conditions, Taber churned out 182 rushing yards, as Johnny Tams chipped in with 38 on the ground, which included a key 24-yard run which set up Taber's third scoring drive.
The Rebels added another 78 yards through the air.
"It was a tough game weather wise," said Simmons.
"It was cold, wet and windy, but we managed to stay focused most of the game and only turned the ball over once."
Defensively, the Rebels forced five turnovers, as Luke Jensen recovered two fumbles, while Sawatzky, Blake Klemen and Tyler Szigli had one recovery each.
"We didn't allow them to get anything going all game," said Simmons. "We were in their backfield consistently, and really used our speed on defence to disrupt Lethbridge's offence."
Szigli led the way with five tackles for the Rebels defence, while Andrus made four stops. Reynolds, Johnny Tams and Kael Klemen made three tackles each.
"A lot of players contributed on defence," said Simmons. "We switched our defensive units out every series all game long. Everyone played a ton of snaps and we had a ton of kids step up."
The win moves the Rebels into top spot in Division B, with Taber's lone loss of the season coming at the hands of Brooks.
Taber will take on the Lethbridge Bulldogs Saturday in Lethbridge, at the University of Lethbridge at 10 a.m. The Rebels then wrap up the regular season the next Saturday in Coaldale.