Rec board pushing for fourth diamond at Kenny Mac
Posted on September 30, 2015 by Taber Times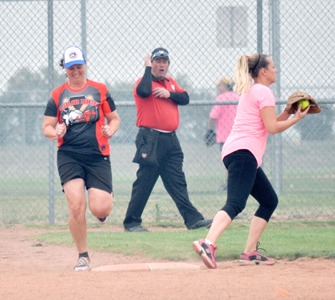 Southern Alberta Newspapers photo by J.W. Schnarr
By Trevor Busch
Taber Times
tbusch@tabertimes.com
The Taber Recreation Board is recommending town council set aside funds in the 2016 budget for the completion of a fourth baseball diamond at Ken McDonald Memorial Sports Park.
At their Sept. 10 meeting, the rec board voted unanimously (6-0) to recommend to town council that $250,000 be set aside in the budget for a fourth baseball diamond (for Ken McDonald Memorial Sports Park) and that a committee be formed from the baseball community to inform the recreation board what they would like to see for a baseball diamond.
"To be honest, it would be a huge impact for tournaments being held out there," said Scott Takaguchi, who headed a delegation from the baseball community at the rec board's Sept. 10 meeting. "Running a tournament for 16 teams with only three diamonds in a weekend is really tough. We actually had to ask the town to borrow a diamond downtown. Logistically-wise, for run times and everything for the tournament, we would be actually able to invite more teams out to come play, rather than just 16 teams, we could go up to 20 or 24."
At the June 4 recreation board meeting, administration had presented costs in relation to the completion of a fourth ball diamond at Ken McDonald Memorial Sports Complex.
Two options with estimated costs presented at that meeting included Option 1 for $382,311, and Option 2 for $235,179.
Takaguchi was an organizer of the Angels in the Outfield charity slo-pitch tournament which was hosted during Cornfest.
"Right now, I think Taber is running a minimum of tournaments, but I think with a fourth diamond you'd have a quad, which could attract a lot more teams and other organizations to run tournaments, and make it a little bit more of a destination."
Should the project be initialized, along with construction costs would come operating expenses, including weed/fertilizer programs, irrigation upgrades and maintenance, pest control, equipment, and labour to maintain the field. There is currently no funding in the 2015 budget for the project. Costs may vary dependent on the extent of volunteer labour.
"What makes Taber really good, is we have all our amenities, restaurants, hotels, accommodations," said Takaguchi. "It's all there so they don't have to come all the way and stay in Lethbridge and then come out to play. Campsites out there is definitely a big help. During our tournament, that was probably the most appreciated thing we had out there, is that the players didn't have to drive from one place to the other, they just walked over to their campsites."
Coun. Randy Sparks, one of two town council representatives on the rec board, endorsed the idea of a fourth diamond, but noted it will come with a significant cost factor for the community.
"I think the key issue here is usage. You can say it again and again, if you build it, they will come, and they probably will. I think that all baseball should be played out at the Ken McDonald fields. I don't think there should be any baseball played on these diamonds downtown here, because there will be an issue someday with someone on the skatepark or the spray park, getting smoked with a softball or hardball. My opinion is all baseball should be out there. You get that quad, that last one built, and then you'll have a facility that hopefully everyone can be proud of out there. Because it needs to be done, they need to have one area. Even the smaller kids, some of those younger kids can hit that hardball a long way, and someone is going to get hurt. But there's a huge price involved with building that last diamond."
Rec board chair Luke Wijna pointed out that construction costs are only the tip of the iceberg when it comes to recreation facilities in the town.
"If we can bring the volunteers back to finish it, and have the M.D. on board for spraying in early spring, it could be a heck of a lot cheaper. But to build it is not the big thing. To maintain it — that's where we get killed time after time. For me, yes we have to finish it somehow. It probably should have been finished five or 10 years ago."
Speaking from the gallery, baseball enthusiast Dale Tilleman recommended making one of the diamonds a showpiece facility in order to help grow the sport in the community and surrounding area.
"That Lon Ferguson field, I'd like to develop that into something like Canola Field. You talk about 'build it they will come'. One of the reasons there's such interest in baseball in some areas, is because there's such good facilities. And that facility wouldn't attract it. I'm retired now, I've had some experience working with fields — I'd like to take that on. I know about three other people, retired teachers, that would take this on. I'd like to develop it so we get more kids playing. You still have three softball fields, but we'd like to make that a little bit more of a baseball field."
Questions over potential for cost recovery for such a facility — should it be built — need to be taken with a grain of salt, according to Sparks.
"I think we have to remember there is not a recreation facility in this town that pays for itself through rental fees. There's no such thing. But we still need to supply the best recreation facilities that we can for user groups regardless. The revenues from charging you people for usage of that facility out there in a 1,000 years would never pay for this one time. But that's not the issue. The issue is getting it built so the users can function how you want to function."
Sparks went on to note the mandate of the rec board was not to grow the sport, but rather to consider facilities for user groups.
"Mr. Tilleman made the comment about us not being more concerned about growing the sport. As a rec board, that's not our mandate. That is those who are involved in baseball, football, soccer, whatever — that's there mandate to grow the sport. We do our best to provide facilities at a cost that everyone can afford."
Tilleman suggested that wasn't necessarily the case considering the indirect impact of creating quality facilities in the municipality.
"I'll take exception to what you said, because of the fact that if you have good facilities, you will grow the sport."
Speaking unofficially from the gallery, Coun. Rick Popadynetz lamented decisions that he asserted have negatively impacted the sport in the community.
"I put forward the motion to have this investigated by council and the rec board. As a citizen of the town, not speaking as a councillor or recreation user, I noticed in the past there were four diamonds in town, we had the signature quad in southern Alberta. There was 44 softball teams, nine tournaments. The whole reason my family moved to this community was because of the softball. When that one diamond was taken out and there was three diamonds, it started killing the sport."
Administration's recommended motion had called for the rec board to postpone recommending any funds be set aside for a fourth diamond until completion of a Recreation Master Plan by the Town of Taber, a recommendation that was ultimately declined be the board.