Rebels dominate Pythons
Posted on September 30, 2015 by Taber Times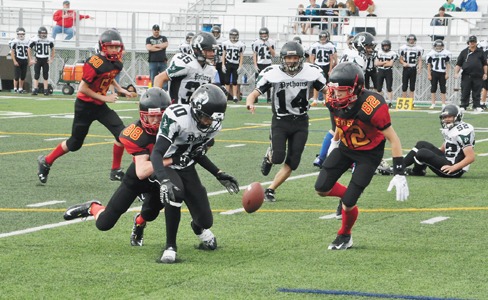 Times photo by Greg Price
The Taber bantam Rebels football team exploded for three touchdowns in the second quarter Saturday to pull away from the Parkside Pythons on the road.
A 7-0 lead after one quarter quickly grew to a 27-7 at the half, as Taber tacked on a few more scores in the second half to complete a 39-9 victory.
"We really showcased our speed," said head coach Garrett Simmons. "We scored on our first drive to set the tone right away, and picked up a quick 60 yards."
Five players ran the ball on the opening drive, which was capped off by a 15-yard run by Corny Froese.
"He made a great read on that run, hit the hole hard and got a couple of key blocks to the outside," said Simmons, who added a 15-yard run by Johnny Tams on second-and-10 helped set up the scoring play.
A fumble snuffed out the next Rebels drive, which got off to a good start with a 20-yard run, as the Rebels defence held the fort in the first quarter, to set up Taber for a big second quarter.
"We backed ourselves into a corner and Parkside had the ball deep in our territory, but the defence held," said Simmons. "We ended the first quarter stuffing the Pythons at our 15-yard line, still with just a 7-0 lead."
That's when the offence took over, as Brett Andrus raced down the field for a 95-yard touchdown run, which broke the game wide open. That was followed up with a quick two-play drive on the next Rebels possession, as Froese scored again, this time on a 40-yard run.
A Parkside turnover on a punt return, as Ashton Werewka recovered the fumble, led to a quick three-play scoring drive, capped off with a Mike Sawatzky one-yard plunge into the endzone, to cap off the scoring in the first half. That score was set up by an 18-yard pass from Sawatzky to Kadin Reynolds, which set the Rebels up at the Parkside one-yard line.
"We took advantage of our opportunities and scored very quickly," said Simmons. "We executed well on offence and our defence helped us by setting us in good field position time and time again."
Sawatzky and Andrus connected for two more scoring plays in the second half, on passing plays of 75 and 40 yards, as Taber put the game out of reach.
"It was nice to see us move the ball both on the ground and through the air," said Simmons, who added his team narrowly missed on connecting on a few more long pass plays.
In the end, Taber racked up 460 yards of total offence, with 312 rushing and 148 passing. Froese led the team with 117 yards rushing, while Andrus added 111 yards rushing and 115 yards receiving. Sawatzky threw for 136 yards, while Tristyn Kozak passed for 12 yards. Levi Tams connected on four extra points.
Defensively, Chance Cook and Kadin Reynolds led the team in tackles, as Cook racked up 15 stops on the day and Reynolds had 11. Johnny Tams had two quarterback sacks and forced a fumble, while Cook added one. Levi Tams had a long interception return, while Ashton Werewka recovered two fumbles. Cook also had a fumble recovery. Shawn Harris ended the day with seven tackles while Luke Jensen had five.
"Chance and Kadin were all over the field on defence," said Simmons. "They really led the way and were really difficult to block all day long."
And while the game resulted in a lopsided win for the Rebels, Simmons added his team definitely lost focus at moments, as the referees flagged Taber for numerous infractions, mainly defensive offside calls and illegal procedure calls on offence.
"We had six of those penalties in the first half alone," said Simmons, as one defensive offside wiped out a Tylor Kornelsen fumble recovery. "We just can't afford to make that many mental mistakes. It was hot outside, the score was lopsided and our linemen had to play two ways more than we would have liked, because we were missing three guys, but there's no excuse for the amount of penalties we took."
On a more positive note, Simmons added his special-teams units responded with an improved effort.
"Our kickoff and kick return was excellent all game long, and Levi made the extra points look easy. It was one of the better special-teams efforts we've had in a number of years."
The Rebels now prepare for a Saturday home game at 10 a.m. against the Lethbridge Cougars, as part of Football Day in Taber festivities at Ken McDonald Memorial Sports Park.