Back-to-back titles for Auroras
Posted on September 30, 2015 by Taber Times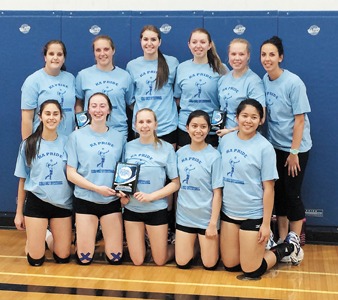 Times photo submitted
By Greg Price
Taber Times
gprice@tabertimes.com
St. Mary's Auroras varsity girls volleyball team continues to shine when it comes to tournament play, emerging as champions the last two weekends. A championship in Three Hills was followed by a tournament win at Kate Andrews in Coaldale this past weekend.
The playoff round included wins against Pincher Creek in the quarterfinals and Stirling in the semifinal before a monumental comeback against F.P. Walshe in the final.
After coming back to win the first set 25-23, it looked like the final would go three sets, but the Auroras would have none of that.
"In the second set we were down 22-11 and the girls battled so hard. It got to 24-20 for F.P. Walshe and it was one of those things that if they wanted the game, they had to take it then and there," said Cassie Mucciarone, head coach of the St. Mary's Auroras varsity girls volleyball team.
"Our focus was 'swing, swing, and swing to win', but play smart at the same time finding the holes on the court. We took it 26-24 to win the whole thing. It was amazing. F.P. Walshe is a very strong team with some provincial players and a lot of club players and they will be strong in the future as well. Our girls are working a lot better as a team. We are serving harder, and just playing smarter."
The Auroras went 3-0 against Raymond, Milk River and F.P. Walshe in round-robin pool play which made the squad battle tested for the playoffs.
"We had to go to three sets against Raymond and F.P. Walshe, which was really good for the girls because we hadn't been in that situation yet in learning how to battle in the third," said Mucciarone.
The Auroras return to Southern Alberta High School Girls Volleyball League this week with road games against Raymond Comets today and Picture Butte Queens on Thursday.
The last two tournaments have given the Auroras that scrappiness that is needed to gut out tough wins which will serve the team well in the future.
"I am proud to see how the girls have battled. It is so easy for a team to fold when you are in that much of a hole. They are learning how to battle and knowing the game isn't over until that final whistle."