Swimming lesson frustrations continue
Posted on September 23, 2015 by Taber Times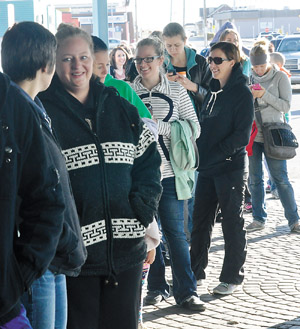 Times photo by Greg Price
By Greg Price
Taber Times
gprice@tabertimes.com
Swimming lesson registration continues to be muddled in troubled waters, as once again frustrations were evident in the long line ups for registration on Saturday morning at the Taber Aquafun Centre.
With people showing up as early as 2 a.m., people had to be turned away as it looked like demand outstripped supply.
"When I joined the rec board, this was all new to me, so I wanted to go see first hand myself what it was like and talk to some parents," said first-term recreation board member Darcy Firth.
"Marten DeVlieger was the second one in line and he was there at 2:30 in the morning. He brought his barbecue along and was making bacon and eggs for people who were in the lineup."
Breakfast was served to people showing up as early as 6 a.m. for the 9 a.m. start to swim lesson registration at the Aquafun Centre.
"The demand is there for younger swim lessons and we have to figure out a way to accommodate them," said Firth adding a possible solution to alleviate at least part of the problem is to streamline pool availability to maximize usage.
"Some of the other programs like Mom and Tot have two different time slots. There is 11 a.m. until 1 p.m. and 6 to 7 p.m. or something like that in the evening. When I was taking my kid there and that was for three and under, I would go to the evening one and it was very rarely there was more than two people in the pool with me. Lane swimming, they have 6-7:45 time slots, a 12-1 time slot and a 6-7 time slot, why do we need three time slots just for lane swimmers? When you have one area that really needs more spots available and you have other time slots that are not being utilized, you get rid of those spots."
There are waiting lists for some of the swim lessons which Firth confirmed.
"I talked to one of the girls that worked the front there. She said she did not have to turn anyone away herself, but she knows the other two did. There are people waiting to get in," said Firth.
Firth listened to complaints from parents in line where another hindrance was day availability in certain age groups.
"One that had kids in Kindergarten. They are in Kindergarten either Mondays and Wednesday or Tuesdays and Thursdays, but one of the classes for their age group was when they are in school. So right off the get go, you are limited to two of those classes. Right off the bat, it cuts their chances to get in by half."
The swim lesson dilemma is a multi-faceted one in which Firth knows it is not simply make more lessons available. You also need the resources to accommodate increased demand.
"One of the problems I see is you need enough staff. We are a small community and all our lifeguards are high school or college/university. It's a revolving door, once you train them they leave. A big city has full-time lifeguards where they are lifeguarding and teaching lessons and that's all they do," said Firth, adding there are only so many children that can be put in the pool per lesson due to safety regulations which further limits capacity.
"It's not entirely the town's fault. We have a lot of people who want to use this program, but we don't have the resources to do it."
The town continues to look into online registration options, but that does not solve the issue of demand exceeding availability for swim lessons for youth according to Firth.
"The reason why people are lining up so early is because there are limited spots. Even with online, they still have to set a time and date for online registration and there's still going to be a mad rush. If it's at 9 a.m. when that server opens up, it's going to be the ones with the fastest computers get in?," said Firth. "I'm not a computer savvy guy, but if you get that many people on the computer at one time, it is really going to bog the system down. It's a matter of people showing up and knowing they are going to get a spot."
Firth is attempting to get the swim lesson issue put on the November recreation board agenda, as there looks to not be enough people available for an October meeting due to previous commitments.
Despite all the frustrations involving swim lesson availability, Firth tipped his hat to town employees who handled the hordes of people on Saturday morning during registration.
"I sat there and watched the three girls that were behind the front desk and doing the registration. Even though they knew there was going to be some angry parents, they handled themselves well," said Firth. "When the next person was in line there, they got them in, got the forms filled out, and answered the questions properly and got them out the door. They were under the gun after parents were sitting that long, already angry. The town staff did an excellent job handling the situation."