Rebels girls continue to roll in volleyball play
Posted on September 23, 2015 by Taber Times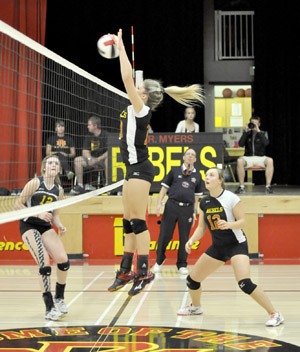 Southern Alberta Newspapers photo by J.W. Schnarr
By Greg Price
Taber Times
gprice@tabertimes.com
It was a busy and dominant week for the W.R. Myers Rebels varsity girls volleyball program.
The week of hardcourt action began with two victories in Southern Alberta High School Girls Volleyball League play, starting off with a straight sets sweep of Cardston Cougars last Wednesday 25-14, 25-11, 25-15.
"My girls just came out and wanted to play. Our passing was phenomenal against Cardston in that we were able to actually do something with the volleyball to set up the attack," said Dee Schramm, head coach of the W.R. Myers Rebels varsity girls volleyball team. "Defensively, we had some pretty good blocking at the net. We also had some pretty good serving at the line as well that made it difficult for them to set up their attack."
The team then had its home opener against Magrath Pandas last Thursday that once again saw a straight-sets sweep, this time 25-15, 25-22, 25-13.
"It was the same, when everything was clicking, it was clicking well," said Schramm. "The passing was there and we could turn it around into an attack."
The Rebels continued their dominance with a tournament victory at Lethbridge College over the weekend, dropping a mere two sets along the way.
The Rebels finished first in its pool with a sweep of Winston Churchill (25-12, 25-22), a split with Catholic Central (22-25, 25-22) and a sweep of Immanuel Christian (25-15, 25-15).
The quarter-finals featured a Rebels' 25-18, 25-16 win over Magrath. The closest match of the Rebels run came in a tough semifinal against Vauxhall Queens 12-25, 25-18, 15-12.
"It came down to making the other team make mistakes. It was a good battle, but I'm not sure where the girls were in our first set, they weren't there for sure playing mentally. They were not there at all," said Schramm. "They bounced back the second set and continued to play. Both teams made the other team work for the points that they got."
The final featured a 25-12, 25-22 win over F.P. Walshe in the championship final over the weekend at Lethbridge College.
"For me, this past week was phenomenal. Now, it's just a matter of keeping the girls at that pace mentally and physically," said Schramm, adding there is no rest for the weary as the Rebels have another jam-packed week of volleyball coming up.
Today, the Rebels play their cross-town rivals in the St. Mary's Auroras at home with junior varsity at 6 p.m. with varsity to follow. Then from Thursday to Saturday, the Rebels are at the LCI tournament in Lethbridge.
"It's a matter of keeping them focused in the grind and making sure with their diet, they are eating enough, and fueling up the gas tank," said Schramm. "And knock on wood that we stay healthy."