HS Rebels bitten by Bulldogs
Posted on September 23, 2015 by Taber Times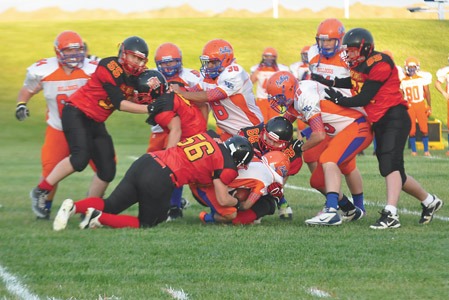 Times photo by Greg Price
By Greg Price
Taber Times
gprice@tabertimes.com
It was a tight 20-13 loss for the W.R. Myers Rebels on Friday Night against the Winston Churchill Bulldogs during fan appreciation night, but head coach Adam Hughes still appreciated the many positives that came out of the game.
"We were driving late and there was a ball that bounced off a receiver where they got a fluky interception," said Hughes.
"We were driving and at about the 50-yard line. Had we scored, we probably would have went for two, because of the old saying 'having a tie is like kissing your sister'."
Down a couple of scores at half-time, the Rebels could have gave up, but Hughes was proud of how the team continued to fight for the fans with the large crowd at Fan Appreciation Night at Ken McDonald Memorial Sports Park.
"The game easily could have gone south where we packed it in and it turn into a lopsided score. But our boys continued to fight," said Hughes.
"Winston Churchill was very aggressive where they sold out to stop our inside run. I was also really happy with the adjustments we made at half-time. We were able to throw the ball on them, run some reverses and some plays outside. We moved the ball where we let them come after us and we threw it over top. There were lots of times where their whole defensive front was within five yards. Not even their safeties was deeper than five yards away."
Brad Marsden scored a 70-yard touchdown in the contest.
Beyond one blown coverage on a long Bulldogs touchdown pass, Hughes was happy overall with the team's defensive effort.
"We kind of fell in the same camp as them, as we focus on stopping the run. That is how we are going to be successful with most teams we play," said Hughes.
"They had a couple of good drives, but we were able to stop them. They had a big offensive line and I was pretty proud of our guys, we have some small defensive linemen, but did a pretty good job fighting through guys almost twice their size."
While a 'W' would have been nice, it is the division record that counts, with the Rebels first official division game this Friday on the road against Pincher Creek Mustangs.
"They have been running the Double Wing for the last number of years, but they are going away from that a little bit. But they are very run orientated, power oriented. We expect to be using all our linemen this week."