Bantam football Rebels earn gridiron split
Posted on September 23, 2015 by Taber Times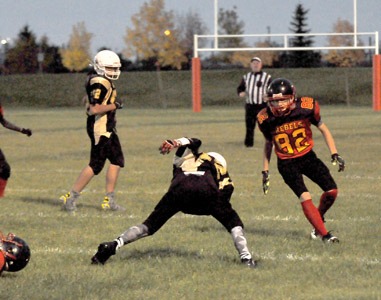 Southern Alberta Newspapers photo by J.W. Schnarr
It was a tale of two games last week for the Taber bantam Rebels.
The team opened its Southern Alberta High School Football league season Wednesday, Sept. 16 at home with a 44-6 win over the Lethbridge Coyotes. Saturday, however, the powerhouse Brooks Roadrunners came to town and left with a 27-0 win.
"We had some chances to make that score a lot closer," said Rebels head coach Garrett Simmons. "We had the ball at the Brooks one-yard line on one drive and couldn't score, and we just missed on a couple of big plays in the passing game."
Make no mistake though, Brooks was the better team on this day.
"They have 31 returning players from last year and a staggering amount of talent," said Simmons. "They have a ton of athletes and nearly every time they needed to make a tackle, make a difficult catch or break a tackle, they did it. At the end of the season, Brooks will be in the conversation as one of the best bantam teams in the entire province."
That said, the Rebels didn't make life easy for Brooks. The defence held on the first Roadrunners drive of the game, and it wasn't until Brooks blocked a Taber punt, which gave the visitors great field position, that Brooks began to take over.
Wednesday's game was a different story, as the Rebels scored early and often and came away with a decisive victory.
"We really played well in the season opener," said Simmons. "The offence scored very quickly every drive and we didn't have to punt the entire game."
The Rebels racked up 366 yards rushing on 22 carries, good for almost 17 yards per play.
"Athletically, we just took over with our speed," said Simmons. "We had four players score touchdowns and the only drive we stalled was due to some untimely penalties."
Brett Andrus led the way with touchdown runs of 12 and 25 yards, as the slotback accounted for 74 yards rushing. Andrus also caught a 38-yard touchdown pass from quarterback Mike Sawatzky. Corny Froese scored on a 79-yard run, as he racked up 89 total yards, while Kadin Reynolds had a 59-yard touchdown run. Chance Cook rushed for 96 yards in the contest, which included a touchdown run of his own.
Levi Tams booted five extra points, while Andrus and Sawatzky connected on one two-point conversion.
Defensively, Reynolds led the way with six tackles, as the first-year football player impressed coaches, especially with his work on special teams.
"Kadin was all over the field on the kickoff team," said Simmons. "He was around the ball all game long."
Cody Jonker had five tackles, while Andrus, Ashton Werewka and Brett Bullock had four tackles each.
"Cody and Ashton were absolutely disruptive on the line in the first quarter and a half," said Simmons, as the Rebels switched to its second-team defence late in the second quarter, with a 21-0 lead in tow.
Bullock and Jonker recorded fumble recoveries for the Rebels, while Andrus and Tylor Kornelsen recorded sacks. Sawatzky and Johnny Tams also shared one sack. Blake Klemen, in his first game ever, had three tackles on the day, as did Kornelsen, Shawn Harris, Luke Jensen and Jackson Noel.
"Our second-team defence really battled," said Simmons. "We gave up one score but a lot of kids got a lot of valuable playing time."
The same could be said of the Rebels second-team offence, which connected on two scoring drives.
The Rebels now prepare for a Saturday road game in Medicine Hat, as Taber faces the Parkside Pythons.