Town called out on state of football field
Posted on September 16, 2015 by Taber Times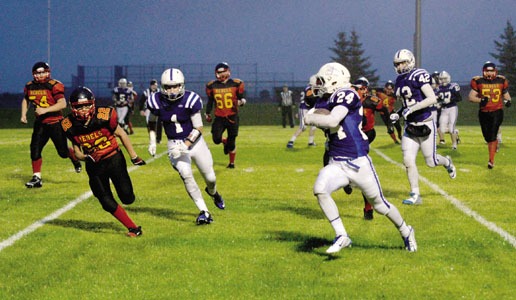 Times photo by J.W. Schnarr
By Trevor Busch
Taber Times
tbusch@tabertimes.com
Allegations of metal spikes and other debris found on the football field at Ken McDonald sports complex prior to a recent high school game has seen conflicting opinions from the town and minor football as to the extent of the problem, and who was ultimately responsible for the oversight.
The spikes and other debris were witnessed on the football field prior to the W.R. Myers Rebels high school football game on Aug. 28 versus the McCoy Colts.
Complaints were later brought to the town about the state of the field prior to the game.
"We're still investigating the whole situation," said recreation director Aline Holmen at the Sept. 10 meeting of the Taber Recreation Board, indicating a lack of notice about the game could have contributed to issues surrounding rushed field preparation. "We didn't find out until Monday that there was actually a game on Friday (Aug. 28). Nobody told us, it wasn't booked. We were told we should anticipate it, because it happens every year. We don't anticipate anything, because we have events that don't happen every year in our facilities. So we actually don't presume anything."
"So Monday night we had a phone call that said we need the field ready for Friday with lines, and our answer was we'll do our best."
Some field work had already commenced prior to the late August game, according to Holmen.
"We knew football was going to be starting in early September, so we were starting to get the field prepped. We'd already made painting arrangements to do lines, we did some top dressing out into the field."
Holmen noted the metal spikes witnessed on the field were probably "whisker biscuits", permanent metal devices which are pounded flush into field lines with protruding flourescent brush tops which make line painting a less labour intensive prospect.
"What we did this year was new, and we started it with soccer," said Holmen. "Typically what happens when you do lines is you put a strong out and you paint. What the communities are doing now is using these whisker biscuits. The biscuits are pounded into the ground so there's about this much (Holmen motioned an approximate measurment) sticking out. That way you can always see where you're painting your lines. So this gets buried in, and these were getting all put in, and we'd already done them for soccer previous."
Holmen went on to speculate the devices might have been removed and left out on Thursday (Aug. 27) by a person or persons unknown, although she did note others, including football personnel, had been present on the field that Thursday.
"What happened, I believe — and we're still investigating — but all of these were out. And so I believe that this is what they pulled out of the ground, saying there was stakes all over the field. Our employees, I'm going to stand behind them, because Thursday was the day that the strings and stakes were out in the field, and Friday was the day that we cleaned up — there were coaches in the field Thursday. So I believe that some of this is coming from Thursday. We weren't done yet, we were still under the gun with overtime for staff, and we were rushing to get it done in conjunction with everything from Cornfest."
Contesting numbers that had been floated as to the quantity of spikes that were recovered from the field, Holmen was confident this was an exaggeration.
"Now Friday, the direction was go and make sure every one of these stakes — because there was these that went in, plus just normal stakes for painting lines — were removed. That employee assures me that was done. He got called to go to Cornfest, but that was done before. Is it possible that maybe a couple were left on the field? Yes. But 50 of them? Not a chance, and I'll tell you why. Of these whisker biscuits, less than 25 were put into place, and only about 12 of them were used to paint lines. There's no way there was 50 spikes on the field — so a slight exaggeration."
The whisker biscuits that have been removed represent a significant investment in man hours that will now need to be replaced, according to Holmen.
"We're still looking into it, but all of these (whisker biscuits) were pulled out. This is three days of work for us, that we'll now have to replace in the spring. They stay in the ground forever, and are used to paint marker lines. What a lot of communities are doing is they don't paint anymore, and put in these side by side by side. These had all been pulled up, and were laying on the bench by the football field."
Holmen did admit there could have been broken glass on the field that was overlooked by employees.
"There was also some concern about glass and gravel on the field, the direction for Friday was to get those areas raked out, which they did get raked out. There's a little bit of misinformation, or it got convoluted somehow, but we're following up. I'm not saying someone is lying, but we're following up. Broken glass, was there broken class out there, there probably was. But that field was walked from one end to another doing lines, you don't miss an inch of that field, so it must have been pretty small or maybe they just missed it, I don't know."
Email correspondence from last week obtained by the Times between Taber Minor Football president Bonnie Sawatzky and Holmen tell a slightly different story than what was related to the rec board, with regards to the general state of the field's preparation.
"I received a text from Adam Hughes our high school coach," said Sawatzky in the email. "In it he stated that there were over two dozen large spikes left from painting the field at Ken McDonald. Broken glass in multiple places. Gravel in portions of the field. Whoever prepped the field forgot to clear it off. We had people comb the field before the game (because) if this was not noticed and was too late a player or players could of been seriously injured. They even think that they might of missed some, who knows. I do believe that we do not or should not have to scan the field for hazards. Football is dangerous enough without large nails sticking out of the grass."
In her response to the email, Holmen appeared to contradict her explanation to the rec board, taking responsibility for spikes being left out on the field prior.
"With regards to the spikes in the field, those were from line marking. We were responsible for leaving them out so we take full responsibility for that and are thankful that they were found. In speaking with staff, they were rushed to get the fields done due to the short notice and then were called into town for Cornfest prep. After that it went out of their minds. In our process for line painting going forward we won't be using the spikes so that should no longer be an issue. They were not aware of broken glass on the field at all and had walked the field for two days prior prepping for lines. In reality it was a feat in itself to have the lines and we had to pay a day of overtime to make that happen and a staff member gave up a vacation day. Having said that we will do better inspection of the fields in the future."
A member of the coaching staff of the W.R. Myers Rebels football team, Jason Jensen, had been present on the field prior to the Aug. 28 game, and also had concerns about spikes and debris left on the field.
"Myself and another coach were walking along the field prior to pre-game warm-up, and spotted spikes sticking out of the ground along the sideline.  They were approximately eight inch long spiral nails, and were protruding roughly two inches from the surface. They were spaced every five yards, corresponding with the lines on the field."
Jensen contested Holmen's assertion to the rec board that the number of spikes found must have been an exaggeration.
"We checked the other side of the field and found the same thing. There were also spikes in the endzone corners, so all told, that would be more than 50 total nails that we pulled up. I have heard some talk of spikes being driven in with 'biscuit whiskers' attached, but those are not the ones I am talking about. As far as I know, most of those spikes were left in place, as they were actually driven all the way into the ground. After pulling the spikes, we left them piled on the bench, as we didn't know what to do with them. When we returned on Monday, they had been taken by someone." 
Jensen also noted glass also found on the field had likely been there for some time, as it had a "weathered" quality to it.
"We also had one of the players come up to us with a broken bottle, prompting us to sweep the field even further.  We found two broken bottles on the field, both of which were weathered, indicating that they had been there for some time. While sweeping for glass, we picked up pocketfuls of rocks from the field, as there were several spots where a mix of dirt and gravel had been dumped. Thankfully we caught that stuff in time, and got it cleaned up. I can't imagine what would have happened if a player had been tackled, or slid into one of those spikes, or onto that broken glass. All in all, there is no way that the field was safe for play."